25th Annual Martin Luther King, Jr. Celebration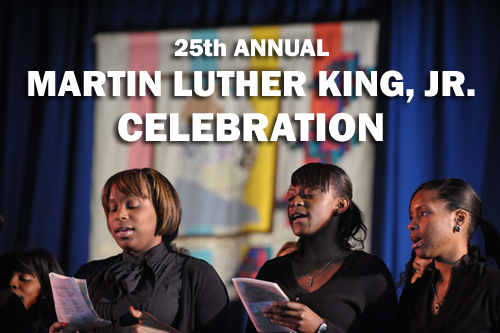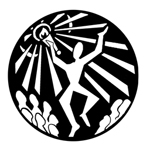 Syracuse University will hold its 25th Annual Martin Luther King Jr. Celebration–"Continuing the Journey: Where Do We Go from Here?"–on Sunday, Jan. 24. The annual celebration is among the largest university-sponsored events in the United States to commemorate King.
Prior to the celebration, on Saturday, Jan. 23, quilting, storytelling and performances will be among the offerings at a community festival celebrating culture, arts and education in the community. The festival will be held from 2-4 p.m. at the Seymour Dual Language Academy, 108 Shonnard St. in Syracuse. It is hosted by SU and community organizations, and is free and open to the public.
The University will welcome Gwen Ifill, moderator and managing editor of PBS's "Washington Week" and senior correspondent for "The NewsHour with Jim Lehrer," to campus on Sunday, Jan. 24. Ifill will participate in a discussion based on her 2009 book, "The Breakthrough: Politics and Race in the Age of Obama" (Doubleday), at 3 p.m. in Maxwell Auditorium. The discussion is free and open to the public, and a reception and book signing will follow.
The evening program, which will include the presentation of the 2010 Unsung Hero Awards, entertainment and a keynote address by Ifill, begins at 6:30 p.m. and is free and open to the public. Tickets for the dinner, which precedes the program at 5 p.m., are $25 for the general public and $15 for students without meal plans. Students with meal plans will be charged for one dinner. Dinner tickets are still available and may be purchased by calling Hendricks Chapel at 443-5044.
The recipients of the 2010 Unsung Heroes Awards are Donna Bradford, founder and president of Parents Promoting Dance; Stephanie Breed, a junior at Fayetteville-Manlius High School and founder of Books are Food for Thought; Eric Kingson, professor of social work in SU's College of Human Ecology, SUNY Upstate volunteer and author of "In Their Own Voices," a book that celebrates children with life-threatening diseases; and Odean Dyer, a senior in SU's L.C. Smith College of Engineering and Computer Science and a co-founder of the Multicultural Empowerment Network. Read more about this year's Unsung Heroes Awards recipients
"The Martin Luther King Jr. Celebration Committee is thrilled to be marking the 25th anniversary of this important tradition on the Syracuse University campus," says Kelly Homan Rodoski, communications manager in the Office of News Services and chair of the celebration committee. "From the community event to our culminating celebration in the Carrier Dome, each will lift up and celebrate Dr. King's legacy and the ways that legacy—both in our own community and across the nation—is being kept strong and is moving forward.
"Through her vast experience as a journalist and educator, Gwen Ifill will offer us a unique prism through which to see how far we have come in fulfilling Dr. King's dream and vision, and how much work still must be done," Rodoski says.

Ifill is moderator and managing editor of "Washington Week" and senior correspondent for "The NewsHour with Jim Lehrer." She is also frequently asked to moderate debates in national elections, most recently the U.S. Vice Presidential Debate during the 2008 election.
Ifill joined both "Washington Week" and "The NewsHour" in 1999, interviewing newsmakers and reporting on issues ranging from foreign affairs to politics. In 2009, "Washington Week with Gwen Ifill" was honored with the prestigious George Foster Peabody Award.
Before coming to PBS, she spent five years at NBC News as chief congressional and political correspondent. She still appears as an occasional roundtable panelist on "Meet The Press."
Ifill joined NBC News from The New York Times, where she covered the White House and politics. She also covered national and local affairs for The Washington Post, the Baltimore Evening Sun and the Boston Herald American.
She has received more than a dozen honorary doctorates and is the recipient of several broadcasting excellence awards, including honors from the National Press Foundation, Ebony Magazine, the Radio-Television News Directors Association and American Women in Radio and Television.
A native of New York City and a graduate of Simmons College in Boston, Ifill serves on the boards of the Harvard University Institute of Politics, the Committee to Protect Journalists, the Newseum and the University of Maryland's Philip Merrill College of Journalism.