Syracuse University and SUNY-ESF Commencement 2013: The Details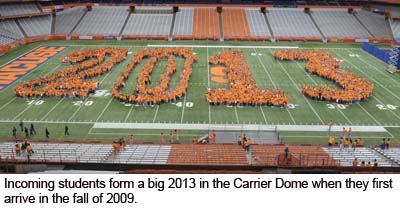 The hard work, the support of family and friends, and the drive toward a dream will culminate for 5,533 degree candidates at Syracuse University's celebration of its 159th Commencement Sunday, May 12, in the Carrier Dome. More than 14,000 guests are expected.
The SUNY College of Environmental Science and Forestry (SUNY-ESF), in its 116th Commencement exercises, will confer 676 degrees at the ceremony.
The ceremony begins at 9:30 a.m. with class, school and college marshals leading degree candidates into the Dome. Nicholas D. Kristof, a two-time Pulitzer Prize winner and opinion columnist for The New York Times, will deliver the Commencement address to the Class of 2013.
In recognition of its degree candidates, SU's College of Law will confer 196 juris doctor degrees and two master of laws degrees at its Commencement Friday, May 10, in the Dome.
Pomp and Circumstance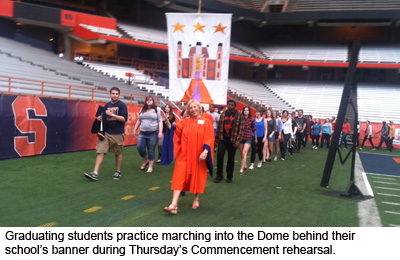 At Sunday's Commencement, SU Chancellor and President Nancy Cantor and SUNY-ESF President Cornelius B. Murphy Jr. will confer the degrees. SU Vice Chancellor and Provost Eric F. Spina will preside.
This year's honorary degree recipients are Alan Gerry, Doctor of Humane Letters; Judith S. Kaye, Doctor of Laws; Kristof, Doctor of Humane Letters; Wangarai Muta Maathai (conferred posthumously and accepted by her daughter Wanjira Mathai), Doctor of Science; and Charles Payne '70, Doctor of Humane Letters.
The two all-University Senior Class Marshals, Stephanie Kranz and Kishauna Soljour, will lead graduates during the ceremony. Kranz, of Buffalo, is a double major in mathematics and policy studies in The College of Arts and Sciences. Soljour, of New Canaan, Conn., is a double major in television-radio-film in the S.I. Newhouse School of Public Communications and African American Studies in The College of Arts and Sciences.
In addition to the two all-University marshals, 23 student marshals will represent the 13 schools and colleges at Syracuse University; ESF is also represented by two student marshals. They were chosen on the basis of leadership abilities, participation in extracurricular activities, service to the University and academic achievement. The marshals will lead the degree candidates of their respective schools or colleges.
Twelve seniors have been designated as Syracuse University Scholars and three as SUNY-ESF Scholars. This is the highest academic award given to undergraduate students.
The Class of 2013 graduates will also include the first class of Say Yes Syracuse Scholars. The 47 Scholars are the first to take part in Say Yes Syracuse, a chapter of Say Yes to Education, a nonprofit foundation committed to dramatically increasing high school and college graduation rates for urban students.
Heading the academic procession will be Nancy Weatherly Sharp, professor emerita of newspaper journalism in the S.I. Newhouse School of Public Communications, who will serve as mace bearer. The procession will also include University Marshal Shiu-Kai Chin, the Laura J. and L. Douglas Meredith Professor for Teaching Excellence and professor of electrical engineering and computer science in the L.C. Smith College of Engineering and Computer Science. More than 70 faculty members and administrators serve as Commencement marshals.
Anthony Acocella, a graduating senior who will receive a bachelor's degree in vocal performance from the College of Visual and Performing Arts (VPA), will sing the national anthem. Music is provided by the Syracuse University Brass Ensemble under the direction of James Spencer, professor of chemistry in The College of Arts and Sciences. Carina Digianfilippo, a graduating senior who will receive a bachelor's degree in vocal performance from VPA, will conclude the ceremony with the singing of the alma mater.
John Hottenstein, professor emeritus of television-radio-film in the Newhouse School, will be the announcer.
Watch It Live
The Commencement ceremony is being webcast live at sugrad.syr.edu. WSYR-TV digital 9.2 (Time Warner Ch. 890 and Verizon FiOS 470) will also broadcast the majority of the ceremony.
Commencement can also be celebrated using the hashtag #SUGrad13.
Transcripts of speeches, video and photography will be posted at news.syr.edu.
Keep in Touch
As Commencement winds down, graduates can stay in touch with their alma mater through the "Plant Your Flag" project and web site to let everyone know where they will be headed starting this summer—whether to home, graduate school or their first job. Graduates can sign up on the site and post photos to the site as well.