SU iSchool Maintains Top Ranking in Information Systems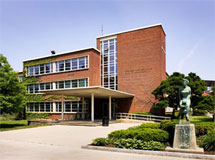 The iSchool also ranked third for school library media, third in digital librarianship and fourth overall in the library and information science category.
Full rankings information is available on the U.S. News and World Report website.
"The iSchool at Syracuse is very proud to see these rankings—and across so many of our areas of specialization.  We are now, and have always been known as the premier technical MLIS program, and this year's rankings again confirm this as the top-ranked program for information systems," says iSchool Dean Elizabeth D. Liddy.
"I am proud of the education we provide in our iSchool, and appreciate the well-deserved recognition generated by these rankings," Liddy continues. "In an era when the focus of many organizations is on data and information, graduates of our programs are recognized as professionals who have the insight and expertise to accomplish the goals of the organization in which they work—be it a library, an established company, an information-based start-up, a government agency or a not-for-profit. Many thanks to our exceptional faculty, who are the ones who deserve the credit here, and our graduates who go out to prove the value of what we offer."
"We are very excited about the recognition that we have a quality program with quality students and outstanding faculty," says Ruth V. Small, the Laura J. and L. Douglas Meredith Professor at the iSchool, director of the School Media Program and founding director of the Center for Digital Literacy (CDL) at Syracuse. "The programs that we have here currently, and new projects under development, will have an impact on the field both nationally and internationally in years to come."
Data for the 2014 Best Graduate Schools rankings is gathered from more than 1,250 programs and 13,000 academics and professionals, with a focus on expert opinions regarding program excellence and statistical indicators that measure the quality of an institution's faculty, research and students.
The 2014 rankings come from surveys conducted in 2012 and 2013, and are based solely on the nominations of program deans, program directors and a senior faculty member at each academic program.