Kirk VanGilder Visits SU March 20-21 for Conversations on Creating Spaces for Inclusion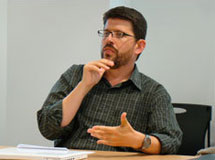 Rev. Kirk VanGilder, professor of religion at Gallaudet University in Washington, D.C., will visit Syracuse University March 20-21 for a series of conversations on creating spaces for inclusion.
"Without Walls: What Temporary Deaf Spaces Can Tell Us About Managing Identity Politics" is co-sponsored by Hendricks Chapel; the Interfaith Student Council; the Secular Student Alliance; the Disability Student Union; the SU Disability Cultural Center; the SU Center on Human Policy, Law and Disability Studies; the Department of Religion; the Beyond Compliance Coordinating Committee; and 'Cuse ASL.
The schedule is as follows:
Wednesday, March 20—A dinner with VanGilder will be held from 5:30-6:30 p.m. in Hendricks Chapel. Space is limited. American Sign Language (ASL) interpretation will be provided. Contact Radell Roberts at rrober02@syr.edu by March 19 to register.
VanGilder will give a public lecture from 7-8 p.m. in Hendricks Chapel. He draws upon how Deaf identities are formed and maintained through the creation of temporary Deaf spaces. Could this and other examples of temporary space be models for fostering co-existence and cooperation rather than division and competition between identities in society? ASL interpretation and Communication Access Realtime Translation (CART) for this lecture will be provided. Light refreshments will be served. If you need other accommodations or information on parking, contact Roberts by email.
Thursday, March 21—A luncheon with students will be held from noon-1 p.m. in the Strates Lounge on the lower level of Hendricks Chapel.  Space is limited. ASL interpretation will be provided. Contact Roberts at rrober02@syr.edu by March 19 to register.
VanGilder was born hard of hearing before losing more hearing in late adolescence and transitioning into the Deaf world.  He is an ordained United Methodist clergyperson and has served as a minister in Deaf churches in Baltimore and Pasadena, Md., as well as campus minister to Gallaudet University from 1997-2002. VanGilder has also traveled to Kenya, Zimbabwe and Turkey to work with Deaf community development and support.
For more information on VanGilder's visit, call Hendricks Chapel at 443-2901.