Benjamin Wagner, 'Mister Rogers & Me' Documentary Filmmaker, to Speak at SU
Career Services and the Office of Alumni Relations are bringing Benjamin Wagner, a 1993 graduate of the S.I. Newhouse School of Public Communications and The College of Arts and Sciences, to campus on Wednesday, March 20 as part of the Alumni Speaker Series. Wagner will speak about his career and his documentary "Mister Rogers & Me" on what would have been Mister Rogers' 85th birthday. The presentation is free and open to the public. It will begin at 6:30 p.m. in Crouse-Hinds 010 with a screening of "Mister Rogers & Me" and a discussion immediately following. Refreshments will be served.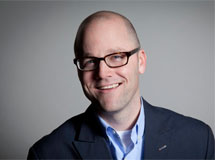 As senior vice president for MTV News—the music, movies and pop culture news authority for the millennial audience—Wagner oversees all production and multi-platform programming for the division. This includes daily news stories, insider specials, live red carpet shows, exclusive music video and movie premieres and the "RapFix Live" weekly online-only live stream, as well as exclusive artist and celebrity interviews on-air, online, via mobile and across social media.
After graduating from Syracuse University with dual degrees in newspaper journalism and creative writing, Wagner first joined MTV News in 1996 as an online producer, interviewing acts like REM, U2 and Neil Young. From there, he moved on to become senior producer, director, executive producer and vice president of Digital. He was a key player in the launch of MTV News' daily news stories online in February 1997, and continued to oversee its growth and product development, propelling him to his current role.
Inspired by a chance meeting with "Mister Rogers' Neighborhood" creator Fred Rogers, Wagner wrote, directed, shot, edited and voiced the 2012 PBS documentary, "Mister Rogers & Me," with his brother.  The film features interviews with Tim Russert, Susan Stamberg, Linda Ellerbee and others impacted by Rogers' values. The Huffington Post called it "a gem of a film… that asks important questions about our human connections."
On the side, Wagner is a singer/songwriter who has released 12 independent albums, including "The Invention of Everything Else" in 2010, "Heartland" in 2005, and "Love & Other Indoor Games" in 2004. In the early years of his career, Wagner wrote for Rolling Stone and then launched LifetimeTV.com.
The Alumni Speaker Series is a collaborative effort of Career Services within the Division of Student Affairs, and the Office of Alumni Relations, which brings SU alumni back to campus each semester to share their career stories.
For more information about the Alumni Speaker Series, contact Kim Brown (kmbrow04@syr.edu, 443-3616).