Humphrey Fellowship Program empowers next generation of leaders
Andrijana Vojnovic of Serbia has lived through a turbulent time in her country's history: the rule and eventual overthrow of a dictator, political assassination and the emergence of a parliamentary democratic republic. "I witnessed firsthand the powerful role that civil society can play in peaceful democratic transition," Vojnovic says.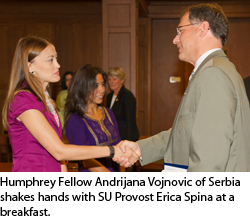 A program coordinator for the Zoran Djindjic Foundation in Belgrade, which promotes a modern, democratic Serbia and was established after the assassination of the country's first democratically elected prime minister, Vojnovic wants to gain insights into the management of non-governmental organizations and the role of civil society in global governance. She arrived in July at the Maxwell School of Citizenship of Public Affairs, where she is advancing her knowledge as a participant of the Hubert H. Humphrey Fellowship Program.
Funded by the U.S. Department of State, the program selects young mid-career professionals from emerging democracies and developing countries to attend participating U.S. universities for 10 months of non-degree graduate study and professional leadership development—and cultural exchange.
"The central mission of this program is exchange—for us to understand them, their countries and their trends, and for them to more effectively understand the United States," says Margaret E. Lane, assistant director of Maxwell's Executive Education Programs and director of the Humphrey Fellowship Program.
This year's 11 Fellows at Maxwell are from Afghanistan, Argentina, Bangladesh, Cote D'Ivoire, Ecuador, Lebanon, Mexico, Pakistan, Serbia, Tunisia and Venezuela. Fellows take the Humphrey seminar that helps them understand their leadership capabilities; enroll in courses in their specific areas; learn about American culture from families who serve as local ambassadors; meet with public and nonprofit officials; and participate in a professional internship.
"We have really high expectations of them that they will take what they learn here and make substantive change in their organizations and their countries," Lane says.
The Maxwell School was chosen for the first time five years ago to be one of the 18 schools that host the fellows program. This is the fourth and final cohort of the five-year term, but Maxwell will be competing again to host the program. "We see the program as a way to expand our global reach as an institution," Lane says.
Another fellow, Nejib Khabbouchi of Tunisia, is a chief auditor/comptroller in the prime ministry's Public Services Audit Office and hopes to gain skills that will allow him to advance in his career. His studies will focus on policy analysis, public administration, democracy and anti-corruption studies. "This will allow me to help policymakers in my country to establish a national strategy to improve transparency and efficiency in public procurement and developing methods to prevent and combat corruption," Khabbouchi says.
Khabbouchi appreciates the opportunity to build a strong international network, learn more about the U.S. and world cultures and have others learn about his own country. "The most memorable thing is this chance to meet many different people. I can just say that I met almost the whole world in one place," he says.
Vojnovic, who will study strategic planning and fundraising for NGOs, is grateful for the fellowship and the opportunities it has provided. "Perhaps it is not so obvious to somebody who has been living here his whole life, but for us coming from transitional countries, the opportunities here for intellectual challenge are everywhere," she says. "I am determined to use the fellowship in a way that will benefit both Serbia and the United States."