DPS announces key leadership appointments and structural changes
Department of Public Safety (DPS) Chief Tony Callisto has announced key leadership appointments and structural changes in the organization. The changes will create better lines of communication throughout the DPS organization and more effectively align operations, resulting in more efficient and improved public safety services for the University community and partnering law enforcement agencies.
Since February, DPS has been reviewing and realigning internal reporting structures, reviewing opportunities with existing law enforcement and emergency services agencies, and creating overall efficiencies in public safety services for the University community. Under the new structure, functions will be aligned under a simplified structure consisting of three areas: administrative and technical security services; police/law enforcement services; and staff and organizational development and student services. DPS worked with the national management consultant firm ARMC Global in the assessment of its organizational framework and a review of a diverse pool of internal DPS middle managers to establish the leadership team and operational structure.
"This new alignment will offer more unity of command that will improve internal accountability and our capacity and agility to better serve the SU community," says Callisto.
Under the changes announced today, Drew Buske will serve as director of special projects and special assistant to the chief. In this role, Buske's first responsibility will be opening the new DPS Campus West substation located at the Campus West Apartments on Henry Street, and developing plans for community service functions that will operate out of the substation. He will be responsible for researching best practices and developing updated DPS strategies, policies and procedures around changes in the investigation and federal reporting requirements, as well as assisting in DPS' national campus law enforcement accreditation process. He will also provide assistance and advice to the chief on a range of campus safety and security-related matters.
Buske is a 22-year veteran of DPS and moves into the new role from the position of DPS deputy director.  "Drew Buske has been a trusted and valued member of the University community and DPS for over two decades," says Callisto. "I look forward to his focused efforts on projects and issues that will continue to improve safety and security on the SU campus."
Callisto also announced the promotion of two ranking DPS officers to positions of associate chiefs:  Captain John Sardino, a 27-year veteran of DPS, will be the associate chief for police services and Lieutenant Jill Lentz, a 13-year DPS veteran, will be the associate chief for staff development and student services. The two associate chiefs will join Callisto and associate director for administrative and technical services Donna Adams as the executive leadership team for DPS.
Sardino will oversee DPS patrol, investigations, crime prevention and special events; Lentz will lead DPS law enforcement and security training, staff development, accreditation, the Students for Community Safety Program and safety escort services; and Adams will oversee administrative and operational support, as well as the DPS Emergency Communications Center and technical security services.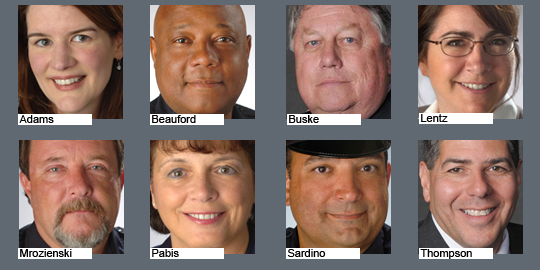 "The addition of John Sardino and Jill Lentz to the DPS executive leadership team will round out a community-focused group with the experience necessary to best serve our students, faculty and staff well," says Callisto. "They are both well respected by DPS staff and committed to leading our organization in fostering a safe living, learning and working environment at Syracuse University."
Four other members of the DPS team—Captain Vernon Thompson, Lieutenant Kathleen Pabis, Lieutenant Ryan Beauford and Captain Andrew Mrozienski—have been appointed to the rank of commander.
Thompson, Pabis and Beauford will be assigned to annually rotating assignments in the Police Services Division, providing leadership and supervision for officers assigned to patrol, events, investigations and crime prevention functions.
Mrozienski, a 31-year member of DPS, was most recently the community policing patrol commander. He will be moving into a new role as the public safety support services commander, responsible for  commanding the day-to day operations of the 24/7 Emergency Communications Center; leading and managing the vehicle fleet and equipment functions, University courier, records, property and logistics positions; and leading and managing the property and evidence storage and security functions of the department. Mrozienski will assist in bridging major technical projects and law enforcement equipment with the Patrol Services Unit.
Thompson's first assignment in the rotation will be as commander of the Investigations and Crime Prevention Unit.  Thompson's 27-year law enforcement career started with the Syracuse Police Department in 1985, where he worked in patrol, investigations, drugs and the crime lab until joining DPS in 2004. At DPS, Thompson has held leadership positions in training and investigations. He is a 2011 graduate of the FBI National Law Enforcement Leadership Academy.
Pabis' first rotational assignment will be as the day patrol operations commander. Pabis is a 24-year member of DPS, where she has worked in patrol, as a patrol supervisor, as a detective and as the lieutenant responsible for the Sensitive Crimes Unit, investigating sex offenses and providing support services to the victims of crimes. She has built strong working relationships among DPS Investigations, the Syracuse Police Abused Persons Unit and the SU Advocacy Center.
Beauford is a 16-year veteran of DPS with experience in patrol as a patrol shift commander, a detective sergeant and a lieutenant of crime prevention and community relations. His first rotational assignment will be as the commander of night patrol operations and special events. Beauford, a 2010 graduate of SU, received a bachelor's degree in organizational leadership, and is a very active University community member, taking a leadership role in several committees.
"These four commanders bring nearly 100 years of diverse professional experiences to the DPS leadership team, and their collective commitment to the University community, as well as to the DPS staff will help focus our efforts toward a community policing model characterized by dedication, protection and service," says Callisto.