Cyclists, motorists, pedestrians experience new University Avenue
Most mornings you can find Steve Morris cycling from his home on the West Side of Syracuse to the bike shop he and his wife own on Westcott Street in the University neighborhood. "It's a good way to wake up—get the blood flowing," says Morris, a 2007 SUNY College of Environmental Science and Forestry graduate.
During a recent commute, however, he bypassed his usual Genesee Street route and went pedaling up University Avenue—climbing up the hill. But that wasn't such a bad thing.
The recently completed University Avenue bike lane from Genesee Street to Waverly Avenue, with its divided, green-reflective path, made the detour seem like a breeze. "It felt a little bit easier than I remember," says Morris who owns Mello Velo Bicycle Shop with his wife, Sara '07. "I don't know if it was just in my head or maybe the fact that it's separate from the cars that made me feel a little more at ease."
Cyclists and drivers will find University Avenue friendlier both because of its new bike lane and conversion back to a two-way traffic pattern, features that are part of making the Connective Corridor practical and accommodating to the community, as well as an attractive new streetscape.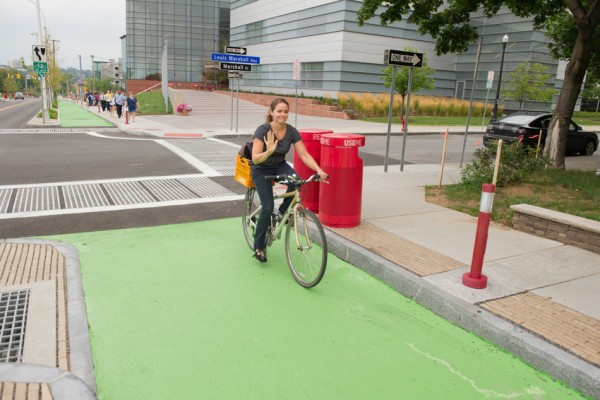 "The Corridor is a metaphor for connecting the University with the downtown area, but at the same time, it is a major civic project that embodies smart growth, sustainability and place-making," says Syracuse University's Community Engagement and Economic Development director, Linda Dickerson Hartsock. "The idea of a complete streetscape approach was to increase multi-modal access and mobility, whether for bikes, walking, buses or cars."
University Avenue reopened as a two-way street in July, and the bike path—from East Genesee Street to Waverly Avenue—opened in early August. The avenue, which welcomes back the Connective Corridor bus, also includes new streetscape features and green infrastructure, including new paving, granite curbing, landscaping, brick pavers, lighting, parking, bike racks, benches and bus pull-outs. A celebration will be held in October to officially mark the new University Avenue streetscape.
The work continues, with the bike lane extension along East Genesee to Almond Street to be completed by the middle of October, continuing across the city during phases two and three of the corridor project as it connects to The Warehouse.
Robert Doucette G'76, G'83 has also taken advantage of the new bike route on occasion to get from his University neighborhood home to his downtown offices. "It's really a beautiful street," says Doucette of Paramount Realty, who has been involved in the city's urban preservation and the development of such areas as Armory Square. "It shows what a modern street can and should look like—a street that addresses people on foot, on bikes and in cars and all sharing that space."
Doucette would like to see a whole network of bike lanes throughout the city—something the city is working on in its bike plan, just released in July. "You still have to be careful at intersections," he says. "But I'm sure for people who don't feel as comfortable riding a bike on a city street, this bike lane system provides a level of safety that would encourage them."
The new bike lane raises awareness that bikes are a serious means of transportation, especially when 40 percent of average trips are less than a mile from a person's home, a fact that Steve and Sara Morris note on their web site. The couple is also actively engaged in the growing cycling culture in Central New York, organizing road rides. "A lot of people think that they are just for riding at Onondaga Lake Park and that they don't belong in the streets, so to have this new bike lane dedicated for cycling is pretty cool," Steve Morris says.
Another misconception Morris hopes will be dispelled is that a bike lane is pointless in the face of a Central New York winter. "Montreal has the most well-developed bike system I've ever seen—and it's colder than Syracuse," he says.
Hartsock agrees. "Great Canadian cities—such as Toronto, Ottawa and Montreal—have vibrant four-season bike communities," she says. "These kinds of urban amenities are part of creating places that attract and retain our best and brightest."
Check out the "green bike lane" photo album at the Connective Corridor Facebook page.