Campus & Community
University Opens the Office of the University Ombuds, Announces Search Committee to Identify Permanent Ombuds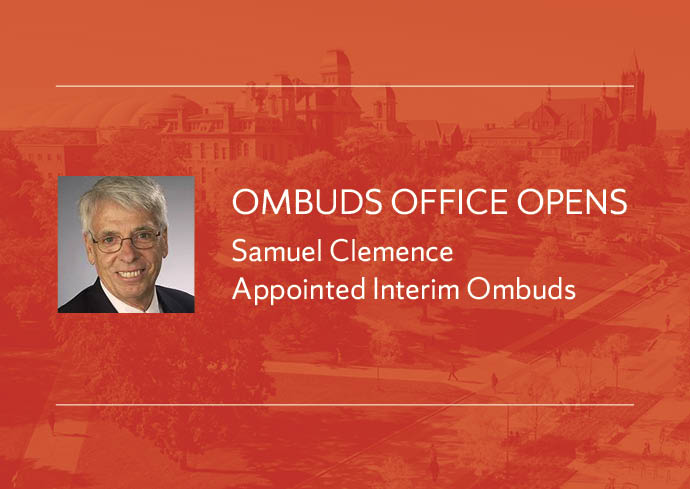 Syracuse University Chancellor Kent Syverud announced the formal opening today of the Office of the University Ombuds. Professor Emeritus Samuel Clemence has been named to head the office in an interim capacity until a search committee identifies a permanent ombuds.
The University created the office in response to recommendations of the University Senate Committee on Women's Concerns and the Chancellor's Workgroup on Diversity and Inclusion. It provides University staff, faculty and graduate students with an informal, confidential, impartial and independent resource to address interpersonal issues or questions openly and without fear of reprisal or judgment.
Undergraduate students are encouraged to continue to use the various existing informal and formal processes and services at the University to address and resolve issues that might otherwise be handled by the ombuds for faculty, staff and graduate students. Those offices would include, for example, the Office of Student Assistance, the Counseling Center, Hendricks Chapel, Health Services and the Office of Equal Opportunity, Inclusion and Resolution Services.
"Creating an Office of the University Ombuds that functions independently of regular institutional channels is an important step toward further promoting a respectful and ethical campus workplace," says Chancellor Kent Syverud. "When faculty, staff or graduate students visit the office to air a concern or question a policy, they can do so knowing it will be treated with complete confidentiality. I am grateful to Dr. Clemence for agreeing to step up as interim while the search process takes its course."
The Office of the University Ombuds provides a venue for complaints, conflicts or concerns that visitors do not wish to address through other official University channels.  These might include interpersonal conflicts or questions about University policies, practices or services.
"We anticipate that the Office of the University Ombuds will be a valuable resource for information and conflict resolution," says Associate Provost for Faculty Affairs LaVonda Reed. "The office expands the array of campus resources available to address concerns and complaints, all the while operating separately from them and with complete neutrality."
The ombuds will report to the Chancellor and will provide information on general trends and patterns of complaints but in a way that assures confidentiality. All communications and inquiries will be kept confidential to the extent permitted by law, and identities of visitors or the contents of conversations will be kept in confidence as well.
In response to employee concerns or complaints, the Ombuds Office may provide assistance by:
Listening carefully and without judgment to concerns
Clarifying University policies and procedures
Helping employees and graduate students explore and evaluate options on how to proceed
Referring employees and graduate students to appropriate University resources
Coaching employees and graduate students on effective communication tactics and other means of de-escalating and resolving interpersonal conflicts
Engaging in shuttle diplomacy and/or informal mediation, where appropriate
While the ombuds will not have authority to take formal action in response to complaints, he or she may help employees or graduate students file formal complaints by providing them with relevant information.
A permanent ombuds is expected to be identified by the end of the spring semester. The following have been named to the search committee for a permanent full-time ombuds:
Keith Alford, associate professor and chair, School of Social Work, Falk College of Sport and Human Dynamics
Sam Clemence, professor emeritus, interim University ombuds
Sarah Pralle, associate professor, Maxwell School of Citizenship and Public Affairs; member, University Senate Committee on Women's Concerns
Kevin Quinn, senior advisor to the Chancellor for executive communications and public affairs
LaVonda Reed, associate provost for faculty affairs
Michael Tick, dean, College of Visual and Performing Arts
Jack Wilson, president, Graduate Student Organization
Clemence is a familiar presence at Syracuse University, having served as a professor of engineering at the College of Engineering and Computer Science for more than 37 years. During that time, he received several teaching and professional honors, including appointment as a Laura J. and Douglas Meredith Professor in 1996. He retired from full-time teaching in 2014 but continues to be involved in a summer internship program to Dubai for engineering students. He also served as interim dean of Hendricks Chapel from 2015 to 2017 and co-chaired the search for the new dean, the Rev. Dr. Brian Konkol.
The Office of the University Ombuds is located at 111 Waverly Avenue, Suite 215. It has two staff persons—the ombuds and an executive assistant.
The office can be reached via email at ombuds@syr.edu or by phone at 315.443.1087.
For more information on the Office of the University Ombuds, visit https://www.syracuse.edu/about/ombuds/. To read the full text of the Office of the University Ombuds Charter, click https://policies.syr.edu/charter-governing-documents/ombuds/.
About Syracuse University
Founded in 1870, Syracuse University is a private international research university dedicated to advancing knowledge and fostering student success through teaching excellence, rigorous scholarship and interdisciplinary research. Comprising 11 academic schools and colleges, the University has a long legacy of excellence in the liberal arts, sciences and professional disciplines that prepares students for the complex challenges and emerging opportunities of a rapidly changing world. Students enjoy the resources of a 270-acre main campus and extended campus venues in major national metropolitan hubs and across three continents. Syracuse's student body is among the most diverse for an institution of its kind across multiple dimensions, and students typically represent all 50 states and more than 100 countries. Syracuse also has a long legacy of supporting veterans and is home to the nationally recognized Institute for Veterans and Military Families, the first university-based institute in the U.S. focused on addressing the unique needs of veterans and their families.