Campus & Community
University Takes Next Step on Campus Framework, Including West Campus Project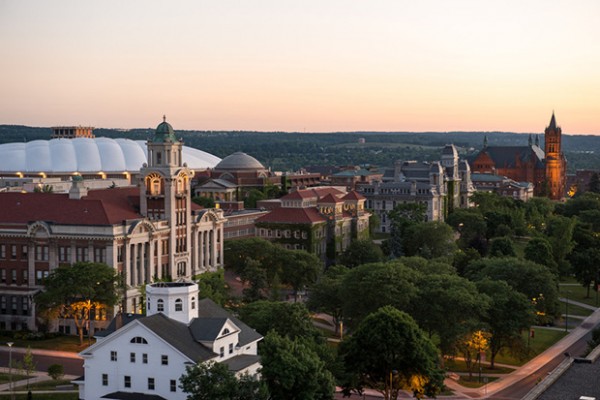 The Syracuse University Board of Trustees has advanced, as part of the Campus Framework, the West Campus Project—a transformative initiative that will support academic excellence, enrich all aspects of student life and create a vibrant campus community. This news comes on the heels of more than 18 months of campus outreach, in which more than 5,000 students, faculty and staff participated in surveys and more than a dozen information sessions.
The new West Campus Project will include substantial renovations to Archbold Gymnasium to create the "Arch," a new state-of-the-art student-focused health and wellness complex; replacement of the aging Carrier Dome roof with a new fixed roof; comprehensive Americans with Disabilities Act (ADA)-related accessibility and mobility upgrades at both facilities; and other improvements to the Dome.  The Board's action reaffirms the University's commitment to offering a distinct student experience that includes a major on-campus athletics stadium, an exceptional health and wellness resource, and an unrivaled level of campus accessibility and safety.
The Campus Framework's key themes, vision and overarching goals have been shared with the campus and local community during the last year and a half. The University will launch the second phase of its outreach and engagement effort in the coming weeks, which will continue in earnest well into the fall 2016 semester. The University's outreach efforts will include a new interactive website and a series of campus dialogue and feedback sessions, to further inform the campus community and create new opportunities for additional conversation and community engagement. The draft Campus Framework document, which will include conceptual renderings, site maps and other specific details, will be shared in early June with the campus community.
"The Campus Framework will allow the University to better meet the needs and expectations of today's college students and provide an unrivaled collegiate experience," says Steven W. Barnes '82, chairman of the Syracuse University Board of Trustees. "The Board is eager to gain additional feedback from students, faculty and staff to help us refine and finalize these projects. We look forward to continuing this important conversation."
"I appreciate the hard work of the Board of Trustees, the members of the Campus Framework Advisory Group and all the members of the campus community who have provided their input," says Chancellor Kent Syverud. "The Campus Framework, combined with the University's Academic Strategic Plan, will continue enhancing our standing as a great, thriving, international research university that attracts the best and brightest students, faculty and staff. I look forward to receiving additional feedback and input from the campus community to help refine and finalize these projects."
The Board also authorized the Chancellor and University leadership to begin the process of pursuing external non-University funding, including private donations, governmental support and other resources that would support a substantial financial portion of the total West Campus Project.
As many details regarding the project need to be finalized, there is no detailed project timeline or exact final cost at this time. However, the project is expected to include approximately $50 million for the Arch project; approximately $105 million for a new Dome roof; and approximately $100 million for improvements that include Americans with Disability Act-related upgrades critical to ensuring an inclusive experience as well as other improvements to the Dome.
"This is an exciting time to arrive at Syracuse University," says Vice Chancellor and Provost Michele Wheatly. "That an Academic Strategic Plan and a Campus Framework document have been developed concurrently signals that the University is serious about aligning its academic vision and mission with its physical presence and infrastructure. Prospective students are looking for the total package—a world class education, top-notch amenities and a student experience that balances their academics with their extracurricular and recreational pursuits."
"These developments are incredibly exciting," says Rick Burton, David Falk Professor of Sport Management and the University's faculty athletics representative to the ACC and NCAA. "Syracuse students, faculty, staff and fans will all benefit in one way or another from these upgrades and improvements."
Burton, who chaired the Chancellor's initial roof assessment in 2014, called the decision timely and supportive of feedback from numerous constituents in 2014-15. "This will be transformative for our athletes, but also for our entire community."
Aaron Hodukavich, director and ADA coordinator in the Office of Equal Opportunity, Inclusion and Resolution Services, says the Campus Framework represents a significant step in making Syracuse University a truly accessible and inclusive campus: "The projects contained within the Framework will improve the quality of life for many of our students, faculty and staff and provide a safer, more welcoming environment for all."
Rebecca Reed Kantrowitz, senior vice president and dean of student affairs, says she is pleased the University will move forward with the West Campus project: "I am particularly happy to see our students will soon have access to a state-of-the-art health and wellness facility, a resource our students say is especially important to them. Additionally, the improvements to the Dome are much needed and appreciated. The Dome is the one place where all our students begin and end their academic careers at Syracuse University. They are welcomed to campus as first-year students during our opening Convocation in the Dome and as you saw yesterday, they celebrate Commencement—a major rite of passage—on the Dome turf. It's only fitting that the Dome maintain its position as the physical heartbeat of our campus."
"The Dome is a central part of any Syracuse student's experience on campus," says Aysha Seedat '16, outgoing Student Association president. "From attending 'Own the Dome' during the college application process to cheering on our sports teams to camping outside in the freezing cold to score SU/Duke tickets, no four years would be complete at Syracuse University without these experiences. I know I speak for many of my friends and peers in saying we applaud the Board and the Chancellor for ensuring the Dome remains a permanent fixture on our campus. There is this incredible sense of Orange spirit that you get when you enter the Dome. It's a truly special part about being a student at Syracuse University."
In addition, as he previously stated, Chancellor Syverud continues to conduct due diligence regarding the concerns he heard last week about the University Place Promenade project from some students, faculty and staff. The University Place Promenade, an initiative that will enhance the campus landscape and create a greater sense of physical connectedness and accessibility for all members of the campus community, calls for transforming University Place, between the Newhouse complex and the Goldstein Alumni and Faculty Center, into a vibrant, high-quality pedestrian space.
Peter Sala, vice president and chief campus facilities officer, says the Campus Framework is just the beginning of what will be a long, exciting and engaging process: "This is an exciting moment in the life of Syracuse University and I am incredibly proud to be a part of it. The Campus Framework contains bold, innovative ideas that will shape the student experience for generations to come."