If there's one thing we Orange can brag about, it's our ability to weather some serious weather.
As the days get shorter and our pants get longer, we begin to wonder if we'll ever feel warm again. Cry no more, Syracuse University community—seriously, tears and snot can both freeze if it's cold enough. I have compiled a comprehensive, albeit non-exhaustive, list of ways to survive the brutal Syracuse winters.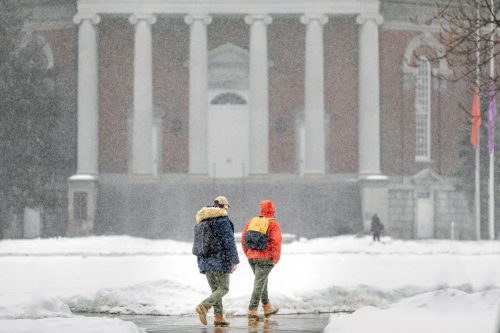 My qualifications? I've made it through three winters here with all my toes intact, and I'm from Vermont, which I'd argue is even colder than 'Cuse. So, strap on your rubber-soled boots, put on your fleece-lined hats and follow me into the snow.
1. Warm beverages
Cocoa, coffee, tea, cider, golden lattes, the list goes on! If you're able, dedicate some time and/or money to discovering which of these beverages is your favorite because it will save you on those days where the wind chill dips into the negative double-digits. Bonus: if your preferred drink happens to be coffee, many of the on-campus cafés offer "coffee club cards" that earn you a free "cup a joe" after you purchase five coffees. They don't advertise this service, so be sure to ask for a "coffee card" at the cash register next time you're getting your morning cup!
2. Proper attire
Take notes, there will be a test:
Wool socks.
Hats that cover your ears.
Waterproof boots.
Fleece-lined pants.
Jackets that cover your derrière.
Layers, layers, layers!
That'll be all.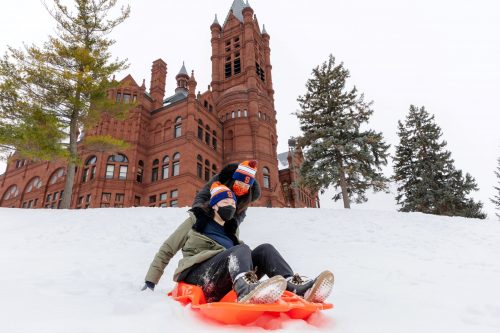 3. Friends with cars
Now, I am not suggesting you befriend someone just to gain access to their car, that would be morally wrong. But, it wouldn't be a terrible idea to try and make some upperclassmen friends if you're a freshman or sophomore living in a dorm sans heated vehicle. Uber bills add up quickly, my friends. Don't be afraid to chat with some of the more senior members in your clubs or classes—trust me, we're just as clueless as you are, and we're usually pretty excited to meet the "next generation," so to speak.
4. Nights in
I know, I know—Syracuse University students are known for being socially active. But, the value of nights spent alone or with close friends cannot be overstated, in my opinion. When the roads have iced over, and there's a foot of snow outside, the last thing I want is to put on a tiny top and walk miles with unstable footing. Try swapping your warm-weather weekend staples for movie nights, dinner parties, charcuterie boards and early bedtimes. That last point is especially important to help you fend off the requisite college flu. Some of my favorite nights in college have been in chill group settings, eating good food and getting to know my friends better.
5. Self-care
Seasonal Affective Disorder or SAD is no joke. Winters in Syracuse are dark and long, and self-care nights become necessary with the lack of sunshine and vitamin D. Self-care looks different for everyone. For you, it could be the traditional face masks and bubble baths, or you may prefer reading, creating or attending one of the university's sponsored self-care events.
Remaining University-sponsored self-care events this semester include:
6. Community
In the same vein as self-care, community is necessary for thriving during the short, cold winter days. Strength in numbers is the central message of one of my all-time favorite New York Times articles, "How We Survive Winter." Though written almost a year ago, its message is just as relevant today as it was mid-pandemic—as a community, there's nothing we can't power through. Lean on your friends, call your loved ones and make time for social activities amongst the final exam hecticness.
7. Lip balm and lotion
Find your favorite moisturizing lip balms and hand lotions and carry them with you at all times; the wind in Syracuse is not kind to delicate skin.
8. Boots with tread
Last but certainly not least, find boots with traction. We've all seen someone eat dirt on the Einhorn Family Walk—don't let that be you. If you're in the market for a new pair, NBCNews put out an article about the "best snow boots and snow shoes for 2021, according to experts," with some college-budget-friendly options.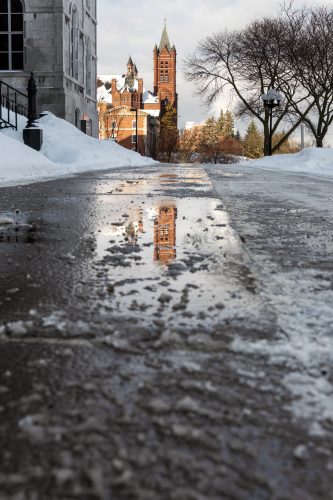 In closing: winter is tough, but we're tougher.
Written by Cecelia Kersten '23, S.I. Newhouse School of Public Communications