While the Hendricks Chapel Food Pantry supports students struggling with food insecurity, did you know that it provides personal protective equipment and sanitary products, too?
The pantry serves all Syracuse University and SUNY-ESF students, with no questions asked. It's easy to use, and Leondra Tyler, student coordinator of the pantry, helps you navigate the process.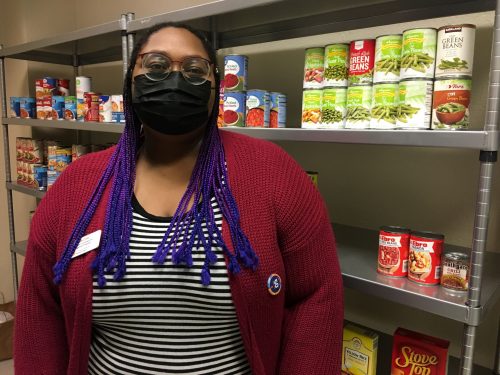 Using the Pantry
Hendricks Chapel recently moved and expanded the food pantry to make food resources more accessible to all students! It is now located in the lower level of the Chapel, in Room 004C across from the Dean's Suite.
To use the food pantry, you can sign in through the Google Form on the Hendricks Chapel website before you arrive, or you can scan the QR code at the entrance.
Once you've signed in, you simply grab a bag or two, then grab whatever you need for the week! The food pantry has everything you need: canned soup, pasta and fresh produce from Pete's Giving Garden on South Campus.
The Hendricks Chapel food pantry is open Mondays 3-6 p.m., Tuesdays 1-4 p.m., Fridays 1-6 p.m. and Saturdays 12-4 p.m. The South Campus location, located at the Carriage House on 161 Farm Acre Road, is available for students on Wednesdays 1-4 p.m. and Fridays 1-4 p.m. This location is supported by the Office of Sustainability Management.
Coordinating the Pantry
Leondra Tyler, pantry coordinator, assures that new food, products and produce are brought into the pantry weekly.
Leondra got started at the pantries by working at the South Campus pantry a few days a week at the beginning of the COVID-19 pandemic.
"I was really excited to be able to work here. It's a fulfilling job overall and I'm able to help and support people," Leondra says.
As a student herself, Leondra understands that we are always on the go, so she tries to stock the pantry with quick snacks, too. She also appreciates the connections to other students she can make through her role.
"I like being able to connect with students. I've made a lot of great friends through the pantry," she says.
Because Leondra has struggled with food insecurity herself in the past, she empathizes with students.
"Everybody deserves to eat. I just don't think that anybody deserves to be in a place where they experience food insecurity. It's not okay," she says.
Handling the Details
Leondra restocks the pantry every Thursday and Friday through both monetary and food donations. Some frequent donors include alumni, faculty members, student organizations and Syracuse University Libraries. At the end of the semester, she often sees students use the remainder of their Dining Dollars to purchase food to donate to the pantry.
If you're looking for fresh produce, Leondra recommends that you come in on Fridays when Slow Foods, a student organization, brings a weekly donation. At the moment, the pantry has lots of fall produce!
Leondra tries to accommodate students with dietary restrictions and allergies by providing Halal, vegetarian, vegan and gluten-free options. She also carefully assesses each product for potential allergens. You can ask her if you have any questions about a particular item.
The pantry is also open to volunteers! I'm planning to serve a few hours a week so that the pantry can be open more often. If you're interested in volunteering at the food pantry, contact Leondra at engagesu@syr.edu.
Written by Jade Chung '23, S.I. Newhouse School of Public Communications