As I am writing this, there are 19 days until graduation. Holy. Crap. Surreal doesn't begin to describe the feeling of disbelief that an incredible four years at Syracuse University have come to an end. The closer I get to graduation, the more sentimental and reflective I become. I assume that's probably normal. At the same time, I can't wait to start the next chapter in my life. The "tension of opposites" to borrow from a favorite book of mine, "Tuesdays with Morrie."
As I let myself reflect and be a complete sentimental puddle of a human being, I hope that I can put together a coherent thought that might help the future generation of the Syracuse Orange.
A lesson I learned far too late in my college career is that there is no need to feel guilty for taking time to enjoy yourself. We all know the feeling of the constant pressure to get schoolwork done, maybe work an on-campus job, and getting involved in extracurriculars on campus. And when you aren't juggling your 10,000 other responsibilities, make sure you're applying to internships and scholarships and that you're really getting the most out of your tuition dollars. All of this is overwhelming, and it can feel that there's no time left to do the things that make the college experience so enjoyable. So, here's what I say—find the balance, and find it sooner rather than later. Do all of those academic things—but also go see a late-night movie at Destiny USA, take a random walk around campus down Ackerman and Sumner, and watch the sunset at Thornden.
All those non-academic experiences are the ones I find myself already missing the most. I've made it my mission to do everything I've been saying I wanted to do for the past four years, but never found the time to do because I was so busy with school, work and student orgs. I take a walk around our beautiful campus at least once a day and spend time with the lifelong friends I've met here.
There have been nights where I've sat in my room, even though my schoolwork was all done, because I really "shouldn't" go out to dinner with friends on a Wednesday. Guess what? That voice in your head that says you "shouldn't," is wrong. Go out to dinner on a Wednesday. The memories you'll remember in 5 years are those dinners at Pastabilities with your friends, not the presentation you rehearsed 5 more times even though you already had it nailed.
I promise you, your four years will go by faster than you could ever imagine. One day you'll be moving out of your dorm room in Sadler Hall, and the next you'll be picking up your cap and gown from the bookstore. Don't let those days in-between go to waste. Find the time to finish your work but recognize that spending the time to make the memories is important too. Four years is never enough time in the best place on earth.
I hope that when this campus gets back to normal, and masks and social distancing are a thing of the past, you will take full advantage of every single experience and opportunity. I hope you will go to Insomnia at 2 a.m., just because. I hope you'll sled down the hill by Crouse. And most of all, I hope you won't feel guilty for it.
Never again will you be a 15-minute walk from your closest friends. Never again will you be with a bubble of people your own age that are experiencing the same things with you, as you experience them. Take advantage of that. Use the time to its fullest. Don't let guilt, expectations of success, or someone else's opinion keep you from making the memories you won't forget.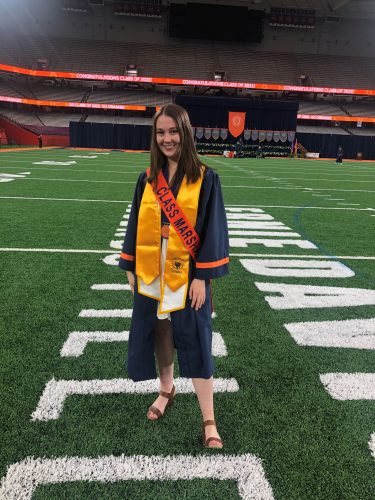 Written by Paige Koss '21, Whitman School of Management & School of Information Studies, Senior Class Marshal