It goes without saying that this semester has been one unlike any other. Whether you are taking classes in-person, virtual or in hybrid format, you are undoubtedly working hard to not only succeed in class but also maintain the normal college experience. Part of that college experience is tackling those fast approaching midterm exams! Here are some midterm study tips that will help every student totally ace those midterms no matter what format they are in!
1. Get Started Early and Regularly
Is it just me or did we all blink and end up in week six? We're almost halfway through the term so right now is the perfect time to get started studying. Research has shown that you will improve your grades if you start at least one week in advance. Plus, the sooner you start means the less you have to cram right before the exam! Rotate through your classes to ensure you don't forget anything, and make a habit to set aside time daily solely for midterms. Even a half hour everyday will go a long way.
2. Utilize CLASS Services
The Center for Learning and Student Success (CLASS) has quickly adapted to the changing times, and its services are entirely virtual! The office offers a variety of programs to meet your custom needs this midterm season. Are you struggling in a particular class and want help from a former student? Try free small group tutoring! Want to learn better study habits confirmed by cognitive science research? Try academic coaching! How about individual help managing your time online? The maximizing online learning program is right for you. See all the free services at on the CLASS website.
3. Take a Collaborative Approach to Studying
The biggest irony of 2020 is that we are living in the most digitally connected time in history yet we seem so separated from one another in reality. Bridge this divide by making your studying a social activity. Many classes have lost in class collaboration, and it can be difficult for students to check their knowledge with classmates. Make an effort to connect with others in order to set up a time to go over notes and practice problems. Maybe socially distance yourselves out on the Quad some evening or connect through Zoom. A great strategy is to compile a shared Google Doc with key terms and class concepts for your study group to review. (Thanks for the tip Professor Thorson!)
4. Set Goals and Priorities
It is important to clearly define what you want to get out of your studying. You have to not only plan out your schedule but also ensure you are addressing your personal study needs. Is one class especially difficult for you? What percent of your total course grade is your midterm score? Set aside a greater chunk of time for these classes. Be sure to go to office hours to hear about any study tips from your professors and TAs.
5. Tackle Your Tech Troubles
Don't have your nightmare become a reality when your technology stops working in the middle of an exam! If you have had issues with internet connection, file saving or any other issue in the past, now is the time to get that fixed. Plan out where you'll take your exam and ensure your WIFI has a solid connection. Make a contingency plan just in case your tech fails. Also, be sure you understand the time constraints and format for each exam. This should help guide your studying. If you're facing problems you don't know how to fix, reach out to ITS! Visit its.syr.edu to get quick assistance.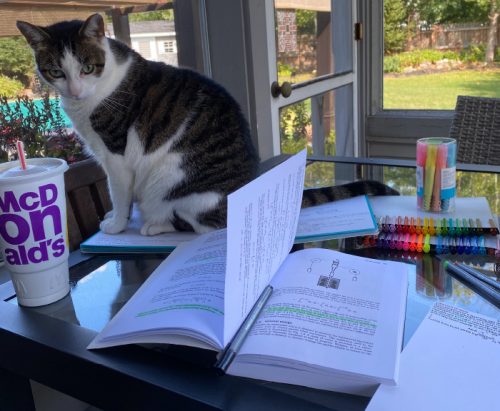 So there you have it. These five tips will help you ace those midterms and keep stress low while you're doing it! It is undoubtedly a unique semester for the entire Syracuse University community, but these strategies are timeless. Keep those spirits up, the WIFI strong and the caffeine coming this midterm season. Let's get it done Orange Nation, no matter where you are in the world!
Ava Breitbeck '22, College of Arts and Sciences, Center for Learning and Student Success Tutor