If you're bored of creating snowmen, praising a crane, or sledding down the Setnor hill on a piece of cardboard that you scraped up from one of your mass-produced ramen boxes, there's actually much more that you can do besides being rocked into a constant stream of Netflix nights that can spiral into a constant sense of boredom.
Uh, sorry about that, got a little bit philosophical there. Here are a few things you can do to ease the cold at Cuse.
Cross country ski or snowshoe.
It snows an average of eight feet or more in Syracuse annually. That's like a foot and a half taller than Elijah Hughes.
So if you want to try cross country skiing or snowshoeing on huge blanket of snow, then try going to Drumlins. It's free to all SU and SUNY ESF students. Hours run as follows…
Friday: 9:30 a.m.-4:30 p.m.
Saturday and Sunday: 8:30 a.m.-4:30 p.m.
You can rent everything for FREE. That includes ski equipment and snowshoes. Just be sure to wear weather appropriate clothes and boots. Also, all trails are mapped and marked. That's pretty crucial and helpful. Unless you want to Rambo it, but that's your choice.
Don't miss out on upcoming Moonlight Snowshoe hikes! They're free and a great opportunity to experience something new. Register on the Wellness Portal!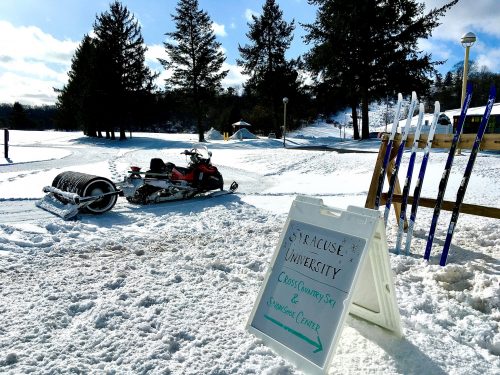 Tennity Ice Pavilion: For more than just ice skating.
You want to talk ironic? Talk about Syracuse, one of the coldest places on earth (sort of), having an ice skating rink inside.
Despite a seemingly non-existent temperature change, Tennity Ice Pavilion offers activities from curling (you know, that sport where they sweep a large stone across the ice), hockey and even skating.
Tennity also hosts Late Night at the Rink from 9 p.m. to midnight. All you need is your SU/ESF I.D., and you can skate your heart out with your friends. Best part about it… it's free and they have those skater helpers (a.k.a. sleds) if you don't know how to skate.
And here's a pro tip! If you've been skating and think you're terrible because your ankles keep giving out, your laces aren't tied tight enough. (We are telling you this because we cringe every time we see skates not tied correctly.)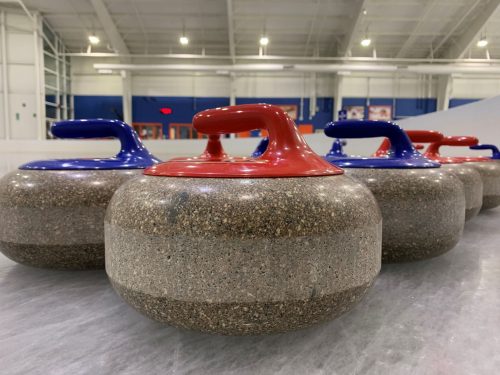 Hate the snow?
There's a lot of activities to solve your winter blues. Activities can be sought out of the Barnes Center at The Arch. From rock climbing to swimming, if you hate the snow, the Barnes Center is the perfect, centrally heated, place for you.
Orange After Dark will also host a plethora of events all winter during the weekends. Events include a trip to the amusement park WonderWorks on Thursday, Feb. 13. There's also Grocery Bingo at Grant Auditorium on Saturday, Feb. 15. Be sure to check out this semester's events, get your ticket and bring your SU/ESF I.D. with you, too. With all these events, there's no excuse for you to watch "The Office" for the seventh time in a row.
Wait a minute, there's more? Traditions Commission in collaboration with Student Activities will be hosting the 2020 Winter Carnival from Tuesday, Feb. 25 to Saturday, Feb. 29. Events include a chili cook-off on the HBC patio at 11 a.m. and Cozy Capella, presented by the A Capella Council at 8 p.m. in Goldstein Auditorium in the Schine Student Center. Both events take place on Thursday, Feb 27 and are free.
Despite it being named carnival, don't worry, there will be no clowns involved. Otto may show up though.
Written by Christopher Scarglato '23, S. I. Newhouse School of Public Communications