Being from Vermont, I'm well-acquainted with the autumnal phenomenon known as "leaf-peeping." Leaf peepers, or "people who go leaf-peeping," are those individuals who flock to New England and other mountainous areas during October to view the changing foliage and clog up the small-town roads. Personal beef aside, there's a reason so many people leaf-peep, and it's because the changing leaves in the Northeast are a sight to behold. Though not technically in New England, Central New York has some spectacular fall foliage that you should not miss seeing while studying at Syracuse University. Without further ado, here are some CNY fall foliage-viewing recommendations from a seasoned Vermont leaf-peeper.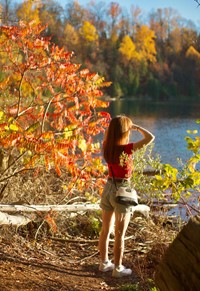 Foliage-Spotting Spots
To paraphrase John Muir, "the leaves are calling me, and I must go," or something like that. You want to see some leaves, but where to start? To be a prime leaf-peeping locale there must be: Trees.
Jokes aside, not all trees are created equal.
For prime leaf-peeping off the Syracuse University campus, visit:
Chittenango Falls State Park
Chittenango Falls has reported earlier color-changing than other parks in the CNY area. If you are looking to go leaf-peeping ASAP, this is your best bet. Be warned though: wait a week or two and the leaves at Chittenango will likely be on the ground.
Green Lakes State Park
You all knew this one was coming. Green Lakes State Park is a favorite amongst the Syracuse University community for its signature green water, casual hiking and picnicking opportunities. The warm tones of the fall foliage contrast nicely against the green water and make for some Insta-worthy pictures.
For leaf-viewing from campus, visit:
The Hill
You walk by and through it every day, but do you ever stop to take in its beauty? The Hill is home to an array of tree species that turn every shade under the autumn sun. The backdrop of architecturally interesting, historical buildings doesn't hurt either.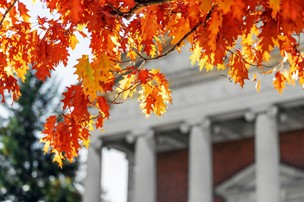 Thornden Park
At the top of the tallest hill in the University neighborhood, Thornden Park's water tower has views of the best fall foliage the campus area has to offer. Bring a blanket, a sweatshirt, a snack and a friend to enjoy the sunset. When you get a good fall sunset, it's not an exaggeration to say the valley looks like it's on fire.
Activities
Want to enjoy the leaves with a side of adventure?
Challenge Course
Located on South Campus, the Outdoor Adventure Challenge Course offers high and low ropes course options. Both the high and low ropes courses focus on developing teamwork, trust and communication in a group setting. The challenge course is a safe way to get your heart racing and to take in the pleasantly chilly fall weather and exclusive views. For more information on the Challenge Courses or other South Campus Outdoor Education Center programs, visit the Outdoor Adventure webpage on the Barnes Center at The Arch website.
Outdoor Adventure Trips
The Barnes Center at The Arch offers outdoor adventure trips that take students out to experience and explore the natural beauty of CNY—natural beauty like the changing fall foliage. Trips are offered at a discounted price, and programs include,
apple picking at Abbott Farms;
day hiking;
horseback riding, and more.
If you're interested in signing up for any of these programs or exploring any additional programs, check out the Outdoor Adventure webpage on the Barnes Center at The Arch website.
Orchard Shenanigans
CNY's local orchards offer a variety of fun weekend afternoon activities like pumpkin-picking, apple-picking, hayrides, corn mazes and petting zoos. Because they tend to be in more rural areas, orchards often have spectacular views of changing leaves. Below, find recommendations for local orchards (and which ones have the best snacks), and check out other apple-related recs!
Syracuse University Outing Club (SUOC)
SUOC is a Syracuse University-recognized, student-run club sport that takes weekly outdoor trips. Students are the trip leaders, and your first trip is free! Activities offered during fall include:
Hiking
Biking (road and mountain)
Climbing
Caving
Paddling (generally at sunrise or sunset)
SUOC trips go to more off-the-beaten-path destinations than the University's outdoor adventure trips, meaning more secluded leaf-peeping. SUOC trips also tend to be a bit more physically demanding, but don't let that intimidate you. Higher peaks equal better views. For more information, follow SUOC on Instagram (@suoutingclub), join the Facebook group or visit their website. Meetings are every Tuesday at 7:30 p.m., in the Life Sciences Auditorium.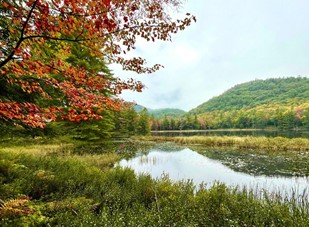 Trick or Treat Yo' Self
You are not really enjoying the changing colors of autumn if you do not have a cup of piping hot cider in hand. For all your fall-favorite treats—apples, apple fritters, cider, coffee and cocoa, cider donuts, pumpkin donuts, pie, etc.—I recommend visiting local orchards like Beak & Skiff, O'Neill's and Burrell's Navarino. If you visit one of those three, I recommend trying:
Beak & Skiff's apple cider (hot or iced);
O'Neill's apple fritters and;
Navarino's apple fritters and cider donuts.
If you're in a time crunch and don't have time for an orchard visit, or if you want some funky fall flavors, check out Trader Joe's. Trader Joe's self-proclaimed "Awesomely Autumnal Pumpkin-palooza" selection includes pumpkin-spice-chocolate-covered espresso beans, pumpkin spice hummus, roasted pumpkin ravioli and more. I recommend the petite pumpkin-spice shortbread cookies and the non-dairy pumpkin oat beverage.
Why are you still reading this article? Go out and live your fall tourist dreams!
Written by Cecelia Kersten '23, S.I. Newhouse School of Public Communications