Turing 21 is a big deal! Since this is a particularly challenging time to celebrate, my fellow Be Wise peer educators and I wanted to share a few ideas about ways to make your birthday special. So… without further ado, here are some ideas that can help you decide how you want to celebrate your special day!
Of course, 21 marks the legal drinking age. If you chose to drink, I'd suggest:
Painting wine or shot glasses: Grab a few friends, some glasses and supplies to customize a fun party favor and memorable birthday keepsake.
Finding a virtual bartending class: This is a fun way to transition to legal drinking age while gaining some practical knowledge
Sampling local craft beer: There are a ton of local craft brewers, like Willow Rock, Buried Acorn, Middle Ages, Talking Cursive, Anything But Beer and more.
Hosting a wine tasting: Get with some friends and try out a variety of wines. Maybe even grab some snacks and cheeses and make a charcuterie board.
Some people decide not to drink on their 21st. Here are some ideas that anyone can take part in:
Scheduling a virtual hang out with all of your closest friends: Celebrate with friends and family no matter the distance!
Making a Photo Booth and take 21 selfies throughout the day/night: We know everyone's looking for a great birthday pic!
Hosting a game night: Pull out the board games or create your own Olympics with Minute To Win It games.
Getting together for a birthday dinner: This is a classic way to spend some time with friends on your big day. Remember, if you're going to drink have a high protein meal! (It will help with alcohol absorption later!)
Treating yourself to a spa day: Celebrate this transition in your life with some face masks, a bubble bath, and some candles
Trying out some mocktails: If you chose not to drink but want to celebrate legal drinking age, this is a fun activity to get creative with!
Whether or not you choose to drink, be sure to check out the 21st Birthday Project!
The 21st Birthday Project is a new Barnes Center at The Arch outreach program focused on reducing negative outcomes for students who choose to go out and celebrate for their 21st birthday. Whether or not you choose to drink, all students turning 21 can participate! All you do is sign up for a 10-20 minute session with a Barnes Center peer educator, and you'll receive prizes, like a free T-shirt, metal straw, cup condom and a noise maker!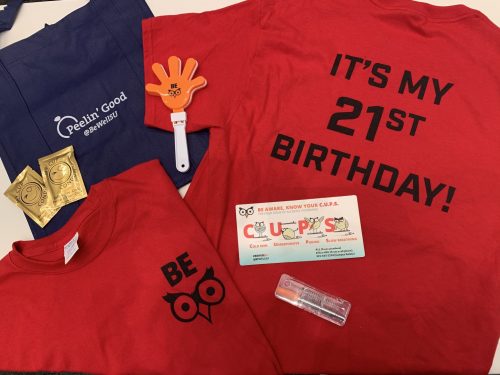 No matter what you choose, make sure you're doing what's best for you! Take some things from this list and create your own checklist. At the end of the day, make sure your spending your birthday the way you want!
Written by Catherine Campbell '22, College of Arts and Sciences