In Wendy Red Star's Light Work exhibit, colorful and witty photos scatter the walls to celebrate Native Heritage Month this November.
According to her bio, the exhibit is an ode to Red Star's journey to try to find the missing pieces of her people's history. The exhibition title, Baaeétitchish (One Who Is Talented), is a reference to Red Star's family history and the name that was given to her after she visited her home in Montana during the summer.
Her art is a collaboration of multiple different sensory components, which include photography, video and performance. Red Star wants viewers of her art to be fully immersed in her pieces and have an empathetic connection through her art.
Some of her pieces include line drawings over old portraits of indigenous people with comments off to the sides. The comments further explain what is within the photo, such as what the person is wearing and who they are.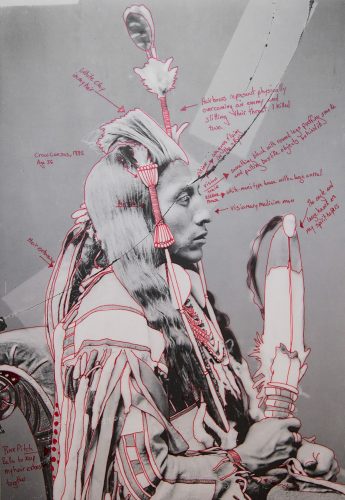 Other pieces of her work include self-portraits in a surreal, colorful, but natural setting.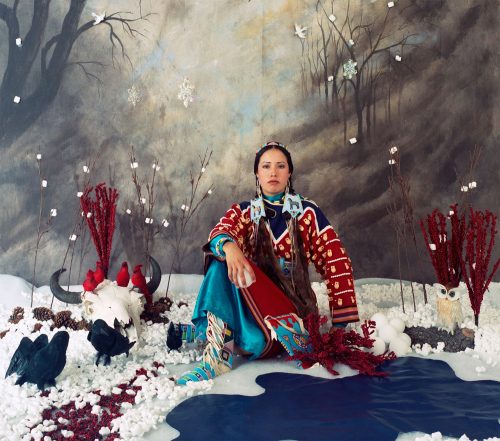 The exhibit runs from Nov. 4 to Dec. 12 with a gallery talk by Red Star at 6 p.m on Thursday, Nov. 14. The gallery is located in the Kathleen O. Ellis Gallery at Light Work. Learn more about Baaeétitchish (One Who Is Talented) and Red Star at the Light Work website or Red Star's website.
Throughout the month of November, various events will be held in honor of Native American and Indigenous culture. These events include lectures by Scott Stevens and Percy Abrams, PH.D and the Haudenosaunee Arts and Craft Fair. Learn more about Native Heritage Month at the Office of Multicultural Affairs website.
Written by Christopher Scarglato '23, S. I. Newhouse School of Public Communications