Media, Law & Policy
University Union, New York Times Present Chelsea Handler April 5
University Union will collaborate with The New York Times on Thursday April 5, at 8 p.m. to hosting the latest edition of "Get With The Times," the provocative live conversation series for college students, featuring activist, comedian and author Chelsea Handler. "Get With The Times: Fearlessly Forward" will be filmed live and  broadcast to watch parties at college campuses across the country.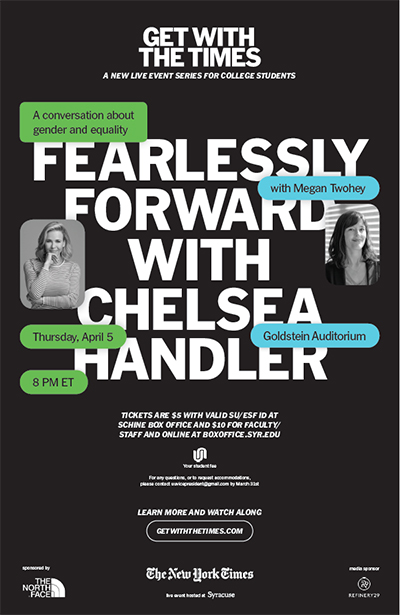 Following the show there will be an audience Q&A. Tickets will go on sale Wednesday, March 21.
Handler has recently taken on the role of encouraging students to find their civic voices and get involved in the issues that matter the most to them, including gender equality and the state of women's rights. She will be interviewed by New York Times investigative reporter Megan Twohey, one of the two Times journalists who broke last year's monumental story involving sexual harassment allegations against Hollywood mogul Harvey Weinstein. The piece sparked a nation­wide dialogue about sexual harassment and assault within Hollywood and other industries.
Regarded as one of the most successful figures in entertainment today, Handler has helmed talk shows, best-­selling books and stand-­up comedy that have attracted millions of fans worldwide. After a successful eight-­year run as the host of E's top-­rated "Chelsea Lately," Handler launched an all-­new talk show for Netflix in May 2016.  "Chelsea," the first of its kind for the global on-­demand generation, tackles today's tough issues with acerbic wit and fearless curiosity.
Handler will soon return to the scripted television world as an executive producer of "Unspeakable," a dramedy starring Mary McCormack for Hulu. It was also recently announced that Handler will continue to focus on work as an activist by joining forces with EMILY's List to help elect more women to public office, register people to vote and campaign for candidates who are fighting for women's rights. Additionally, she will continue her partnership with Netflix for an upcoming original documentary, which will highlight her perspective on the current political climate.
Handler has been honored by TIME magazine as one of its annual "TIME 100," Glamour magazine as one of its 2011 Women of the Year; and the Human Rights Campaign, which gave her its Ally for Equality Award in 2009. Handler's wide appeal and multiplatform success have been highlighted by publications all over the world.
Tickets will be $5 for Syracuse/ESF students and $10 for faculty and staff. Tickets can be purchased at the Schine Student Center Box Office with a valid SU/ESF ID. Tickets will not be on sale for the general public. American Sign Language (ASL) interpretation and Communication Access Realtime Translation (CART) will be available. For any questions, or to request accommodations, please contact uuvicepresident@gmail.com by March 29. Doors will open at 6:30 p.m. and the show will begin at 8 p.m.
For further questions or concerns, contact Keely Higgins, director of public relations for University Union, at uupublicrelations@gmail.com and follow University Union on Facebook at www.facebook.com/universityunion, Twitter at www.twitter.com/universityunion and Instagram at www.instagram.com/universityunion.
About Syracuse University
Syracuse University is a private, international research university with distinctive academics, diversely unique offerings and an undeniable spirit. Located in the geographic heart of New York State, with a global footprint, and nearly 150 years of history, Syracuse University offers a quintessential college experience. The scope of Syracuse University is a testament to its strengths: a pioneering history dating back to 1870; a choice of more than 200 majors and 100 minors offered through 13 schools and colleges; nearly 15,000 undergraduates and 5,000 graduate students; more than a quarter of a million alumni in 160 countries; and a student population from all 50 U.S. states and 123 countries. For more information, please visit www.syracuse.edu.