Arts & Culture
Syracuse Stage to Hold General Auditions for 2018/2019 Season
Syracuse Stage will host general auditions for local Equity and non-Equity actors on Wednesday, March 14, 5-9 p.m., at the Syracuse Stage/SU Drama Complex, 820 E. Genesee St.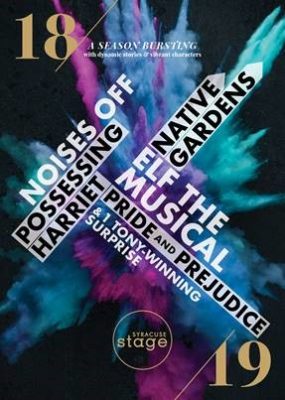 "Our current season, including educational touring productions, has showcased some fine local talent in addition to actors cast in major cities around the country," says Bob Hupp, artistic director for Syracuse Stage. "I am looking forward to seeing how we can incorporate community members into our 2018/2019 season."
The Syracuse Stage 2018/2019 season contains six selected plays and runs Sept. 12, 2018, to May 12, 2019. The six plays are "Noises Off," "Possessing Harriet," "Elf the Musical," "Native Gardens," a modern adaptation of "Pride and Prejudice" and a sixth show which, due to licensing restrictions, will be named March 26.
Auditioners should note that these productions include a significant number of morning student matinees in addition to evening performances. For more information, call Becca Grady at 315.443.4008.
Actors of all ethnicities are strongly encouraged to audition. All actors are required to bring a picture and resume, and be prepared to present two contrasting two-minute monologues or one monologue and one song, not exceeding five minutes in total. Singers should bring sheet music; an accompanist will be provided. Auditions for children will be held at a later date.
SHOW DETAILS
 Noises Off
By Michael Frayn
Directed by Robert Hupp
Sept. 12-30
 Possessing Harriet
By Kyle Bass
Oct. 17-Nov. 4
Elf the Musical
Book by Thomas Meehan and Bob Martin
Music by Matthew Sklar
Lyrics by Chad Beguelin
Directed by Donna Drake
Choreography by Brian Marcum
Musical Direction by Brian Cimmet
Based on the New Line Cinema film by David Berenbaum
Co-produced with the Syracuse University Department of Drama
Nov. 23, 2018-\ Jan. 6, 2019
Native Gardens
By Karen Zacarías
Directed by Melissa Crespo
Feb. 13-March 3, 2019
Cold Read: A Festival of Hot New Plays
March 7-10, 2019
 Pride and Prejudice
Based on the book by Jane Austen
By Kate Hamill
Directed by Jason O'Connell
March 20-April 7, 2019
About Syracuse University
Syracuse University is a private, international research university with distinctive academics, diversely unique offerings and an undeniable spirit. Located in the geographic heart of New York State, with a global footprint, and nearly 150 years of history, Syracuse University offers a quintessential college experience. The scope of Syracuse University is a testament to its strengths: a pioneering history dating back to 1870; a choice of more than 200 majors and 100 minors offered through 13 schools and colleges; nearly 15,000 undergraduates and 5,000 graduate students; more than a quarter of a million alumni in 160 countries; and a student population from all 50 U.S. states and 123 countries. For more information, please visit www.syracuse.edu.