Campus & Community
Students Help Launch White Ribbon Campaign at March 3 Men's Basketball Game
On Saturday, March 3, the University will begin its campuswide effort to support the annual Vera House White Ribbon Campaign at the men's basketball game against Clemson University in the Carrier Dome. The annual campaign runs throughout the month of March.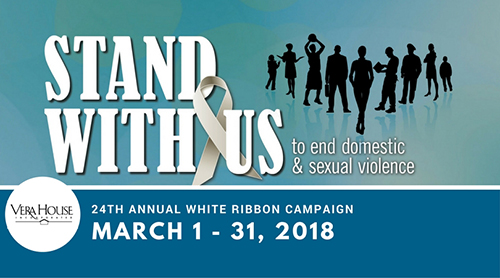 More than 90 student volunteers will distribute White Ribbon Campaign awareness wristbands and collect donations at each Dome entrance. Additionally, representatives from Vera House and Syracuse University will be in the backcourt providing information about the 24th Annual White Ribbon Campaign and on- and off-campus resources for sexual and relationship violence services and prevention.
The Vera House White Ribbon Campaign is an initiative led by men and encourages all members of the community to "Stand With Us" to end sexual and relationship violence. By wearing a white ribbon or wristband, community members demonstrate their support and commitment in ending violence.
To show your support, students, faculty and staff can purchase wristbands, lapel pins, paper ribbons, chocolates and window clings by contacting Denise Dowdall at ddowdall@syr.edu. Community members can also show their support by using #StandWithVeraHouse on social media, adding their name to the campaign pledge and attending the White Ribbon Campaign Walk on Friday, March 23, at noon in Clinton Square. Additional details are available on the White Ribbon Campaign webpage.
About Syracuse University
Syracuse University is a private, international research university with distinctive academics, diversely unique offerings and an undeniable spirit. Located in the geographic heart of New York State, with a global footprint, and nearly 150 years of history, Syracuse University offers a quintessential college experience. The scope of Syracuse University is a testament to its strengths: a pioneering history dating back to 1870; a choice of more than 200 majors and 100 minors offered through 13 schools and colleges; nearly 15,000 undergraduates and 5,000 graduate students; more than a quarter of a million alumni in 160 countries; and a student population from all 50 U.S. states and 123 countries. For more information, please visit www.syracuse.edu.