Campus & Community
Free Yoga Class for Faculty and Staff, Mondays at 5:15 p.m.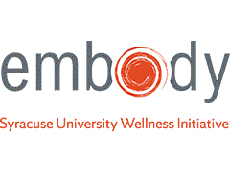 Join yoga instructor Dara Harper every Monday during the spring 2018 semester to strengthen your mind and body with yoga. This alignment-based class will focus on directing energy and creating depth with the breath, while reaping the many health benefits of yoga. Beginners and students who are more advanced are welcome!
Mondays, 5:15-6:15 p.m. *no class March 12
Newhouse 1, Miron room 303
No registration required
Wear comfortable clothing and bring a yoga mat or towel
Questions? Email wellness@syr.edu or call 315.443.5472.
Add your name to our email list to stay up to date on the latest wellness events.
Brought to you by the Syracuse University Wellness Initiative