Arts & Culture
CRS's Kendall Phillips Publishes Book on Rhetoric of Horror in Early American Cinema
Kendall Phillips, professor of communication and rhetorical studies in the College of Visual and Performing Arts' Department of Communication and Rhetorical Studies, has published the book "A Place of Darkness: The Rhetoric of Horror in Early American Cinema" (University of Texas Press).
Using a rhetorical approach that examines not only early films but also the promotional materials for them and critical responses to them, Phillips argues that the portrayal of horrific elements was enmeshed in broader social tensions around the emergence of American identity and, in turn, American cinema. Analyzing films from "Le manoir du diable" to "Dracula" and "Frankenstein," the book, recently reviewed by NPR, reveals how tales of horror are intimately bound to questions of nationhood and national identity.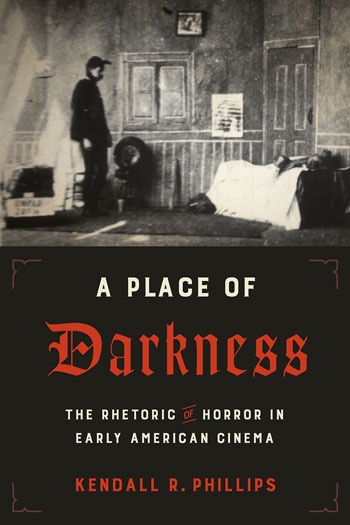 Phillips, whose research and teaching interests are in contemporary rhetorical theory and criticism, is the author of two other books on horror films: "Dark Directions: Romero, Craven, Carpenter and the Modern Horror Film" (Southern Illinois University Press, 2012) and "Projected Fears: Horror Films and American Culture" (Praeger, 2005). "Dark Directions" was named by Cinepunx as one of the "10 Essential Books for the Horror Fan."
Phillips is also the author of "Controversial Cinema: The Films that Outraged America" (Praeger, 2008); co-editor of "Global Memoryscapes: Contesting Remembrance in a Transnational Age" (University of Alabama Press, 2011); and editor of "Framing Public Memory" (University of Alabama Press, 2002).
About Syracuse University
Syracuse University is a private, international research university with distinctive academics, diversely unique offerings and an undeniable spirit. Located in the geographic heart of New York State, with a global footprint, and nearly 150 years of history, Syracuse University offers a quintessential college experience. The scope of Syracuse University is a testament to its strengths: a pioneering history dating back to 1870; a choice of more than 200 majors and 100 minors offered through 13 schools and colleges; nearly 15,000 undergraduates and 5,000 graduate students; more than a quarter of a million alumni in 160 countries; and a student population from all 50 U.S. states and 123 countries. For more information, please visit www.syracuse.edu.