Media, Law & Policy
Tanner Lecture Series Features Etan Thomas Tonight at Hendricks Chapel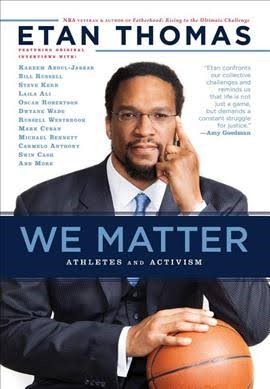 The Tanner Lecture Series on Ethics, Citizenship and Public Responsibility welcomes Etan Thomas, author of "We Matter: Athletes and Activism," and former Syracuse University student-athlete and basketball player and NBA star. Thomas will speak tonight at Hendricks Chapel. The event begins at 7 p.m.
A published poet, author, and 11-year veteran of the NBA, Thomas has released a new book, "We Matter: Athletes and Activism," a collection of interviews by former NBA players that share their personal stories and opinions in an effort to encourage athletes to speak up. Thomas will share his passion for mentoring, motivational speaking and civic engagement.
Thomas' writings have appeared in The Washington Post, Huffington Post, CNN, ESPN, Hoopshype.com and Slamonline. He is a special correspondent for "Hot Topics" on MSNBC and co-hosts a weekly radio show, "The Collision," where sports and politics collide. Thomas has been called an inspiration for young athletes, parents, and avid sports fans. He brings a positive message to all and uses his voice to address social justice. He was honored for his social justice advocacy with the 2010 National Basketball Players Association Community Contribution Award.
The Tanner Lecture Series on Ethics, Citizenship, and Public Responsibility has been generously endowed by W. Lynn Tanner, founder, CEO and chairman of TEC Canada, a leadership development organization dedicated to accelerating the growth and development of outstanding twenty-first century leaders. Tanner received a Ph.D. from the Maxwell School in 1975, where his studies focused on organizational change and development in the public and private sectors.
The event is sponsored by the Campbell Public Affairs Institute.
For more information, please contact Sunju Raybeck at Sraybeck@syr.edu or 315.443.5850.
If you have requests for accessibility and accommodations, please contact the Equal Opportunity, Inclusion and Resolution Services (EOIRS) office at ada@syr.edu or 315.443.4018.