Veterans
Syracuse University Cybersecurity Program Named No. 1 By Military Times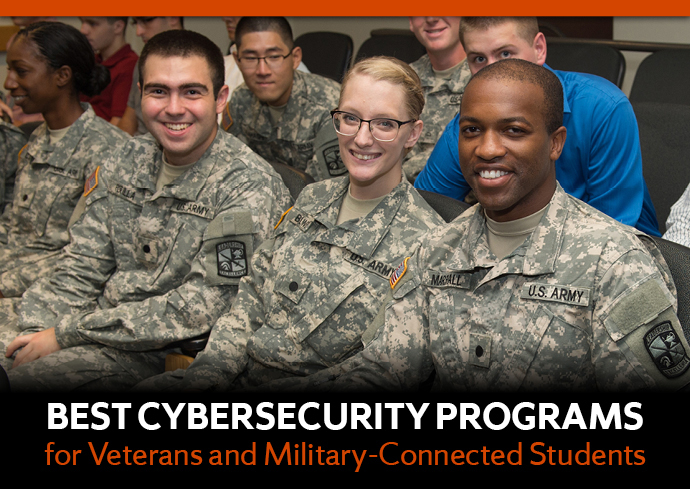 For the second year in a row, Syracuse University tops the list of best cybersecurity programs for veterans and military-connected students.
Military Times' rankings are based on academic rigor and efforts to recruit and support veterans at colleges and universities.
The University's cybersecurity programs challenge students to develop solutions for today's issues and future threats. They address an acute need in the military, government and industry sectors for specialists in cybersecurity. In a 2017 Global Information Security Workforce study, the Center for Cyber Safety and Education revealed that the world is "on pace to reach a cybersecurity workforce gap of 1.8 million by 2022."
"There are few disciplines as relevant as cybersecurity is today," says Teresa Abi-Nader Dahlberg, dean of the College of Engineering and Computer Science. "And yet, we see a significant shortfall in the number of skilled cybersecurity professionals. Those that pursue cybersecurity can capitalize on an abundance of career opportunities while serving a crucial role in 21st century society. Veterans and others familiar with the rigor of the military are uniquely qualified to do so."
Syracuse University is routinely recognized for its work to welcome veterans to its campus and programs. Currently, the Military Times' Best for Vets: Colleges 2018 ranks Syracuse University as the No. 2 private school in the country for service members, military veterans and their families. In 2016, the College of Engineering and Computer Science earned the Engineering Excellence for Veterans Award from the American Society of Engineering Education.
"Syracuse University has a 100-year history of service to our nation's veterans," says Mike Haynie, vice chancellor of strategic initiatives and innovation and executive director of the Institute for Veterans and Military Families (IVMF). "The cybersecurity program within our College of Engineering and Computer Science is exceptional, and based on a hands-on, experiential model well-suited to learning styles of those who have served in the military. For many reasons, veterans are positioned for a career in cybersecurity, and it's exciting to see how our student-veterans are leveraging their educational experiences at Syracuse University and the College of Engineering and Computer Science to realize their career goals and aspirations."
Syracuse University's cybersecurity programs include an on-campus master's and an online master's in cybersecurity, a certificate of advanced study in cybersecurity and a Cybersecurity Semester that immerses undergraduate students in cybersecurity training.
A collaboration between the College of Engineering and Computer Science and the Office of Veteran and Military Affairs, the Cybersecurity Semester is an 18-credit semester open to qualified juniors and seniors from any college or university. This year, SU is offering the Cybersecurity Semester on a cost-neutral basis for up to 10 ROTC candidates from academic institutions outside of Syracuse University. Applications are currently being accepted. Complete information is available on the program site.
In creating their list of top programs, Military Times used academic performance as one of the top factors. The remaining factors included the number of the Computing Accreditation Commission of ABET-accredited computer science programs, the number of Centers of Academic Excellence designations and the proportion of degrees awarded at a school that fall under computer science and computer security, respectively.
Data was provided by schools in the survey, as well as federal data and public information specific to computer science and cybersecurity. Federal data came from the U.S. Departments of Defense, Education and Veterans Affairs.
See the full Military Times press release, rankings  and survey methodology.
About Syracuse University
Founded in 1870, Syracuse University is a private international research university dedicated to advancing knowledge and fostering student success through teaching excellence, rigorous scholarship and interdisciplinary research. Comprising 11 academic schools and colleges, the University has a long legacy of excellence in the liberal arts, sciences and professional disciplines that prepares students for the complex challenges and emerging opportunities of a rapidly changing world. Students enjoy the resources of a 270-acre main campus and extended campus venues in major national metropolitan hubs and across three continents. Syracuse's student body is among the most diverse for an institution of its kind across multiple dimensions, and students typically represent all 50 states and more than 100 countries. Syracuse also has a long legacy of supporting veterans and is home to the nationally recognized Institute for Veterans and Military Families, the first university-based institute in the U.S. focused on addressing the unique needs of veterans and their families.