Campus & Community
Sixth Annual SU Rising to Stop Sexual Abuse Will Be Held Friday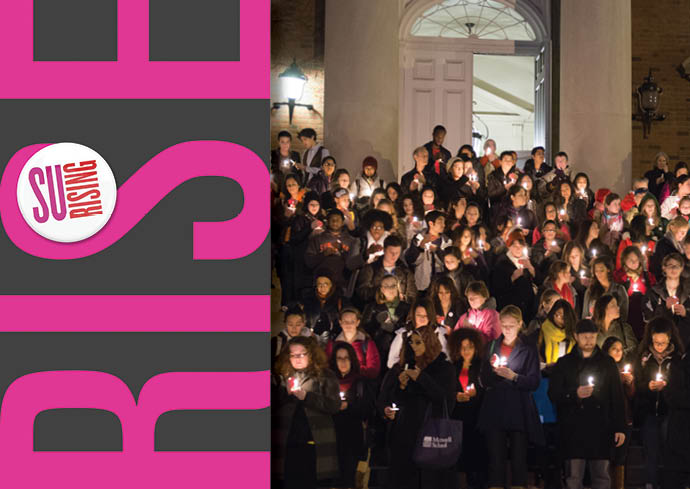 The Syracuse University community will come together on Friday, Feb. 16, at 5:30 p.m. for a candlelight vigil to stop sexual and gender violence locally and globally. This is the sixth consecutive year for the SU Rising: Stop Sexual Abuse event, in which Syracuse University has joined playwright and activist Eve Ensler's "One Billion Rising" international call-to-action.
The event is free and open to the public, and all are welcome. American Sign Language (ASL) interpretation will be provided; free public parking is available in the Q1 lot.
The event will be led by Jikyo Bonnie Shoultz, Buddhist chaplain, and will include remarks and performances by several Syracuse University student groups and organizations, including Students Advocating for Sexual Safety and Empowerment (SASSE), Otto's Empire, peer educators at the Office of Health Promotion and the Sexual and Relationship Violence Response Team at the Counseling Center.
Following the performances and speakers, a candlelight vigil and moment of silence will take place on the steps of Hendricks Chapel at 6 p.m. The annual performance of Ensler's "The Vagina Monologues" will be held at Hendricks Chapel at 7 p.m. Tickets are $7 for general admission and $5 for students, and are available at the Schine Box Office. All proceeds will be donated to Planned Parenthood.
"Sexual abuse, harassment, assault and violence continue to be on everyone's mind with recent events in the world, especially the momentum of the MeToo movement," says Tula Goenka, professor in the S.I. Newhouse School of Public Communications, long-term member of the Chancellor's Task Force on Sexual and Relationship Violence and faculty advisor of SASSE. "Many of us at Syracuse University have been addressing these issues for a long time, long before they became topics of public discourse. I am grateful that we can once again gather and pledge to support victims and survivors, and co-create a world free of sexual abuse."
SU Rising is co-sponsored by the Chancellor's Task Force on Sexual and Relationship Violence;  Hendricks Chapel; the Counseling Center; the Office of Health Promotion; Students Advocating Sexual Safety and Empowerment (SASSE); College of Arts and Sciences; Falk College; Maxwell School; Newhouse School; School of Education; Humanities Center; South Asia Center; Disability Cultural Center; Syracuse Animal Rights Organization (SARO): Femme Noire; I Am THAT Girl; International Socialist Organization; and Vera House.
About Syracuse University
Founded in 1870, Syracuse University is a private international research university dedicated to advancing knowledge and fostering student success through teaching excellence, rigorous scholarship and interdisciplinary research. Comprising 11 academic schools and colleges, the University has a long legacy of excellence in the liberal arts, sciences and professional disciplines that prepares students for the complex challenges and emerging opportunities of a rapidly changing world. Students enjoy the resources of a 270-acre main campus and extended campus venues in major national metropolitan hubs and across three continents. Syracuse's student body is among the most diverse for an institution of its kind across multiple dimensions, and students typically represent all 50 states and more than 100 countries. Syracuse also has a long legacy of supporting veterans and is home to the nationally recognized Institute for Veterans and Military Families, the first university-based institute in the U.S. focused on addressing the unique needs of veterans and their families.