Arts & Culture
School of Education's Inaugural Keith Distinguished Speaker Series to Feature Pinkney Family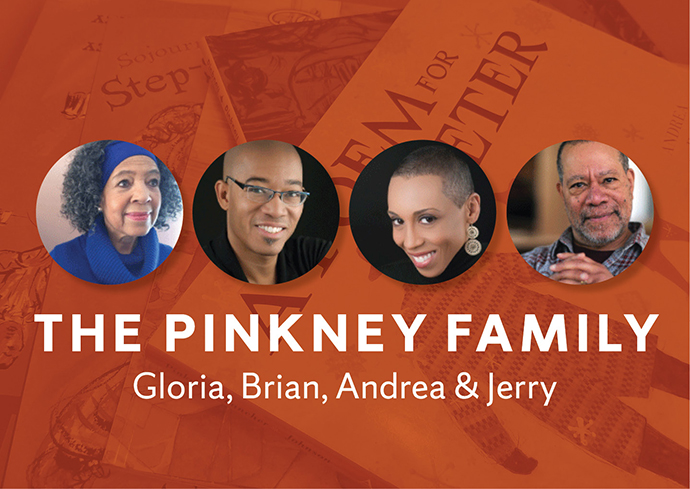 A new School of Education lecture series devoted to early childhood literacy debuts this week with the most prominent family in the field of children's literature and illustration.
Jerry Pinkney, Gloria Jean Pinkney, Brian Pinkney and Andrea Davis Pinkney '85 will visit Syracuse for a two-day residency on campus and off, Thursday and Friday, Feb. 15 and 16. They will discuss how social justice and representation of African American culture in children's literature became their life's work. The Pinkneys will appear as the inaugural presenters in the Jo-Linda and Dennis Keith Distinguished Speaker Series.
The Pinkneys will sign books on Thursday evening at 6:15 p.m. in the Milton Atrium of the Life Sciences Complex. Following the book signing event, at 7 p.m., the Pinkneys will present a public keynote titled "Raising Readers." In this interactive live stage presentation they will share the influences that have inspired them to collaborate on hundreds of notable children's books. Attendees will be invited into their creative book-making process through storytelling, imagery and song.
On Friday, the family will present at a local Syracuse city school, and will also host a community reading event at Beauchamp Branch library, at 2 p.m. The library event is open to families, librarians and members of the community.
On Friday evening, the Pinkneys will wrap up their residency with events at the Community Folk Art Center. At 5 p.m. the Pinkneys will present the talk "TWO SHED LIGHT—The Visual Storytelling of Jerry & Brian Pinkney" in combination with a gallery showing of selected illustrations from the collections of Jerry and Brian Pinkney. A book signing and reception will follow from 6-8 p.m.
For more information about these public events, directions, parking and accommodations, visit soe.syr.edu or call the School of Education at 315.443.4696.
Books—and reading—are the Pinkney family fabric. Their name is on the covers of more than 175 books, and it seems as if they have won almost as many awards.
Andrea Davis Pinkney, who graduated from the S.I. Newhouse School of Public Communications, married into the family. Brian is her husband, Jerry and Gloria his parents.
Davis Pinkney remembers learning how to read when her parents introduced her to "The Snowy Day" by Ezra Jack Keats.
"Keats' beautifully simple narrative and evocative illustrations were a game-changer for me. They took me by the hand and invited me into the experience of words and pictures," says Davis Pinkney, vice president and executive editor for Scholastic and a 2008 winner of the Arents Award, Syracuse University's highest alumni honor.
"I later discovered 'The Snowy Day' (published in 1962) was the first mainstream book to feature an African American child as the main character. I'm sure that seeing myself reflected in Peter's, the main character's, world played a big role in my desire to embrace books and reading. Books with a multitude of experiences and representations offer a powerful reason why diversity is vitally important in the books we share with children.''
Davis Pinkney's books have received multiple Coretta Scott King Book Awards, Jane Addams Children's Literature Honor citations and four NAACP Image Award nominations. She was named one of the 25 Most Influential Black Women in Business by The Network Journal and has received the Medgar Evers College Lifetime Achievement Award.
Between them, she and Brian have published more than 50 children's books. She wrote and he illustrated "Duke Ellington," a Caldecott Honor book, and "Alvin Ailey," a Parenting Publication gold medal winner. Brian also illustrated another Caldecott Honor book, "The Faithful Friend," by Robert D. San Souci. Brian received the Coretta Scott King Medal for illustrating "In the Time of the Drums" by Kim L. Siegelson, and is also an NAACP Image Award nominee. Their latest collaboration, "Martin Rising: Requiem for a King," has received six starred reviews, and is a New York Times Editors' Choice.
Author, illustrator and artist Jerry Pinkney won the Caldecott Medal in 2010 for "The Lion & the Mouse." He began his career in 1964 with "The Adventures of Spider: West African Folktales" and has illustrated "The Tales of Uncle Remus"; "Rikki-Tikki-Tavi" by Rudyard Kipling; and "The Old African" by Julius Lester. His wife and collaborator, Gloria Pinkney, has provided research for his work and is the author of "Back Home" and several more based on its characters, including "The Sunday Outing"—Jerry illustrated them.
"I've always taken great pride in my SU heritage" and visited campus many times, says Davis Pinkney. Jerry Pinkney has served as a guest lecturer and instructor in the Department of Illustration in the College of Visual and Performing Arts.
"Now, as a family, we're very honored and excited to share our life's work with the University and surrounding Syracuse communities," says Davis Pinkney.
Jo-Linda Keith '65, who spent most of her career as an early childhood teacher in pre-K to first grade, and her husband, Dennis Keith, established this lecture series with a gift last year.
"I have always believed that children need to love reading and writing by the end of first grade," says Jo-Linda Keith.
"Literacy education—which really includes reading, writing, speaking and listening—has always been, in my mind, the basis by which children learn to communicate and navigate in the world.
Early childhood literacy is the foundation; so, the richness with which teachers present and encourage children to become enthralled with the love of literacy is of great importance."
In her career in the multicultural town of Montclair, New Jersey, she credits the influence of M. Jerry Weiss, Distinguished Service Professor of Communications Emeritus at New Jersey City University. He encouraged her and a colleague to present ways to enhance literacy at state and national reading conferences.
"Those experiences inspired me to use print and pictures from many kinds of early childhood books to widen the horizons of learning with all children. It also gave me ways of incorporating poetry, author studies and reading theater scripts to make every day memorable for literacy adventures."
In her visits with thousands of schoolchildren annually, Davis Pinkney says, "I am struck with the sad reality that too many children don't have books in their homes." She says she gives thanks for public and school libraries, book fairs and book clubs that make access to reading materials affordable, and "caring teachers who share books in their classrooms."
About Syracuse University
Founded in 1870, Syracuse University is a private international research university dedicated to advancing knowledge and fostering student success through teaching excellence, rigorous scholarship and interdisciplinary research. Comprising 11 academic schools and colleges, the University has a long legacy of excellence in the liberal arts, sciences and professional disciplines that prepares students for the complex challenges and emerging opportunities of a rapidly changing world. Students enjoy the resources of a 270-acre main campus and extended campus venues in major national metropolitan hubs and across three continents. Syracuse's student body is among the most diverse for an institution of its kind across multiple dimensions, and students typically represent all 50 states and more than 100 countries. Syracuse also has a long legacy of supporting veterans and is home to the nationally recognized Institute for Veterans and Military Families, the first university-based institute in the U.S. focused on addressing the unique needs of veterans and their families.