Arts & Culture
Raymond Carver Reading Series Hosts 'The Sleepwalker's Guide to Dancing' Author
The 2017-18 Raymond Carver Reading Series continues Wednesday, Feb. 14, with Mira Jacob, author of the critically acclaimed novel "The Sleepwalker's Guide to Dancing: A Novel" (Random House, 2014). She will participate in a Q&A session at 3:45 p.m. and do an author reading at 5:30 p.m., both in Huntington Beard Crouse Hall's Gifford Auditorium.
Jacob is the Spring 2018 Visiting Writer for the M.F.A. Program in Creative Writing. "The Sleepwalker's Guide to Dancing" was a Barnes & Noble Discover New Writers pick, was shortlisted for India's Tata First Literature Award and was longlisted for the Brooklyn Literary Eagles Prize. It was also honored by the Asian Pacific American Librarians Association and was named one of the best books of 2014 by Kirkus Reviews, the Boston Globe, Goodreads, Bustle and The Millions.
"With wit and a rich understanding of human foibles, Jacob unspools a story that will touch your heart," read the review by People magazine. The Associated Press called the book "Optimistic, unpretentious and refreshingly witty." And Entertainment Weekly stated: "By turns hilarious and tender and always attuned to shifts of emotion . . . [Jacob's] characters shimmer with life."
Jacob is the co-founder of the much-loved Pete's Reading Series in Brooklyn, where she spent 13 years bringing literary fiction, non-fiction and poetry to the city's sweetest stage.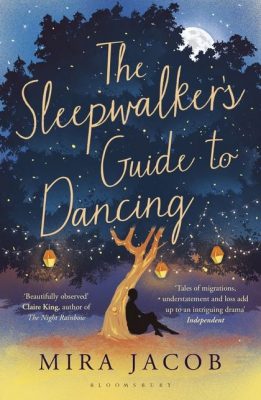 Her recent writing and short stories have appeared in The New York Times, Guernica, Vogue, the Telegraph, Buzzfeed and Bookanista, and her earlier work has appeared in various magazines and books, on television and across the internet.
Jacob has taught writing to students of all ages in New York, New Mexico and Barcelona, and she currently teaches fiction at NYU.
In September 2014, she was named the Emerging Novelist Honoree at Hudson Valley Writer's Center, where she received a commendation from the U.S. Congress.
Jacob is currently drawing and writing a graphic memoir, "Good Talk: Conversations I'm Still Confused About," to be published this year by Dial Press.
About Syracuse University
Founded in 1870, Syracuse University is a private international research university dedicated to advancing knowledge and fostering student success through teaching excellence, rigorous scholarship and interdisciplinary research. Comprising 11 academic schools and colleges, the University has a long legacy of excellence in the liberal arts, sciences and professional disciplines that prepares students for the complex challenges and emerging opportunities of a rapidly changing world. Students enjoy the resources of a 270-acre main campus and extended campus venues in major national metropolitan hubs and across three continents. Syracuse's student body is among the most diverse for an institution of its kind across multiple dimensions, and students typically represent all 50 states and more than 100 countries. Syracuse also has a long legacy of supporting veterans and is home to the nationally recognized Institute for Veterans and Military Families, the first university-based institute in the U.S. focused on addressing the unique needs of veterans and their families.