Campus & Community
Bringing Asia Home: Syracuse Architecture Plans Schoolwide Lunar New Year 2018 Celebration
It will be all about the "Year of the Dog" at the School of Architecture on Thursday, Feb. 15, as students, faculty and staff come together beginning at 5 p.m. for a special Asian cultural event to celebrate Lunar New Year 2018 in Slocum Hall. International students at Syracuse Architecture are organizing the event in collaboration with Dean Michael Speaks.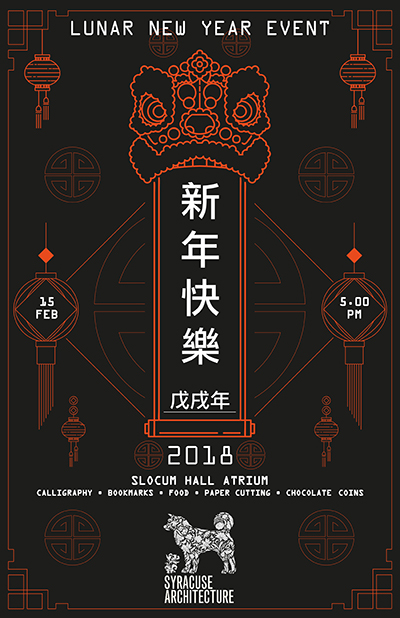 The Slocum Hall atrium will be transformed to create a festival-like atmosphere as architecture students take a break from the pressures of studio life to enjoy dumplings, tea and chocolate coins and activities such as calligraphy, a photo booth and paper cutting.
Says architecture student Fei Hu, "I think we are planning this event well, and I am excited about this! The decorations and food we have will bring the original sense and taste of the Lunar New Year event to Slocum Hall for not only people from Asia but the whole school. I believe that everyone will enjoy it!"
Syracuse Architecture has a widely diverse population; faculty and students come from all around the globe, many from Asia. Events such as this offer international students the opportunity to share traditions of their homelands with classmates and build greater cultural understanding. The Lunar New Year party in particular brings a piece of home to Syracuse University for Asian students who typically miss out on family celebrations back home since the holiday takes place in mid-February.
"This will be my sixth time spending Lunar New Year in the U.S., away from home," says Chengcheng (Tony) Li. "My heart is warmed and greatly touched by the celebration event that will be hosted by the School of Architecture because it will be the first time in years that I can celebrate the most important festival in my culture in a proper way with my friends. I really appreciate how the School of Architecture embraces different cultures and cares about their international students."
"I think it's really nice to have such an event here," says Le Yang. "It will make Slocum Hall seem more like a home. The tradition of the Chinese is to go back to grandparents and all family members gather together to celebrate the New Year. However, because of the different schedules of U.S. and China, we haven't been able to go back to celebrate the New Year for four years. In previous years, we tried to gather a few friends together to have the celebration. But this year we will have the event in Slocum. I'm proud of the school. It's also a nice opportunity to let different cultures communicate. I hope there will be more events like this from all different cultures in the future."
Says student Xingyao (Yao) Wang, "When I saw Lunar New Year posters hung on the wall in Slocum Hall and the words 'Come join us in Slocum Atrium!' posted online and retweeted everywhere within an hour, I felt Syracuse is so close to home."
About Syracuse University
Founded in 1870, Syracuse University is a private international research university dedicated to advancing knowledge and fostering student success through teaching excellence, rigorous scholarship and interdisciplinary research. Comprising 11 academic schools and colleges, the University has a long legacy of excellence in the liberal arts, sciences and professional disciplines that prepares students for the complex challenges and emerging opportunities of a rapidly changing world. Students enjoy the resources of a 270-acre main campus and extended campus venues in major national metropolitan hubs and across three continents. Syracuse's student body is among the most diverse for an institution of its kind across multiple dimensions, and students typically represent all 50 states and more than 100 countries. Syracuse also has a long legacy of supporting veterans and is home to the nationally recognized Institute for Veterans and Military Families, the first university-based institute in the U.S. focused on addressing the unique needs of veterans and their families.