STEM
Become a Leader in Cybersecurity this Fall—General Interest Meeting Feb. 28
In today's hyperconnected world, cyberattacks on our institutions and personal information are increasing. Governments and industries alike need well-trained experts to protect us.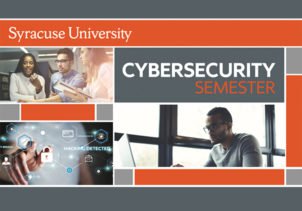 This fall, the Cybersecurity Semester (CSS) returns to the University to teach computer science and computer engineering students from institutions across the country to become leaders in cybersecurity.
Attend the CSS General Interest Meeting on Feb. 28 at 6 p.m.in room 4-201 in the Center for Science and Technology to learn about this unique, single-semester experience. To register, email eecsstaff@syr.edu before Feb. 24. Pizza will be served. To join the meeting remotely, connect via https://webconference.syr.edu/cybersecurityprogram/.
Designed by the College of Engineering and Computer Science and the Office of Veteran and Military Affairs, the CSS is an 18-credit semester in which students learn to identify and analyze system vulnerabilities, assess risks, develop countermeasures, build and verify secure systems and deliver software that has verifiable assurance properties.
The CSS is open to qualified SU seniors and juniors, as well as seniors and juniors from other colleges and universities. This year, SU is offering the CSS on a cost-neutral basis for up to 10 ROTC candidates from academic institutions outside of the University. SU's cybersecurity programs have been named the best in the country for veterans and military connected families by Military Times two years running.
Participants will attend a leadership development seminar, gain priority access to an internship with the US Air Force, attend retreats and visit the Civil War battlefields of Gettysburg, Pennsylvania.
"Students in the CSS learn the theory, tools and practices to formally verify the security and integrity of operations. This capability is the basis for assuring missions in cyberphysical space no matter the application. There is no other program like this in the nation," says Professor Shiu-Kai Chin.
The CSS consists of a core course load, electives and professional development. Core ABET-accredited courses include CIS 400: Certified Security by Design, CSE 484: Introduction to Computer and Network Security and CIS 487: Access Control, Security and Trust. Electives are tailored to individual student needs and interests. Professional preparation includes an internship and leadership development.
Students must be seniors or juniors in a computer science or computer engineering undergraduate program with an appropriate level of prior coursework and a preferred GPA of 3.3 or higher. They must also have experience with discrete mathematics, programming experience in a high-level language and familiarity with Linux at the command-line level. It may also require a U.S. citizenship or permanent resident status to be eligible for internship opportunities, an optional part of the program.
Applications will be accepted until 11:59 p.m. EST on March 18. To apply, please send the following in a single PDF file to cyberengineering@syr.edu:
resume;
unofficial college transcripts (including transfer credits); and
a 100-word biography (include hobbies, interest and goals) with a recent headshot.
A letter of recommendation from an academic advisor or faculty member must also be sent to  cyberengineering@syr.edu directly from the reference by the deadline. For ROTC cadets, a letter of reference from ROTC detachment leadership is also acceptable. Admission notifications will be sent in April.
Register for the general interest meeting on Feb. 28 at 6 p.m. in room 4-201 in the Center for Science and Technology at Syracuse University. To register, email eecsstaff@syr.edu before Feb. 24. To join the meeting remotely, connect via https://webconference.syr.edu/cybersecurityprogram/.
About Syracuse University
Founded in 1870, Syracuse University is a private international research university dedicated to advancing knowledge and fostering student success through teaching excellence, rigorous scholarship and interdisciplinary research. Comprising 11 academic schools and colleges, the University has a long legacy of excellence in the liberal arts, sciences and professional disciplines that prepares students for the complex challenges and emerging opportunities of a rapidly changing world. Students enjoy the resources of a 270-acre main campus and extended campus venues in major national metropolitan hubs and across three continents. Syracuse's student body is among the most diverse for an institution of its kind across multiple dimensions, and students typically represent all 50 states and more than 100 countries. Syracuse also has a long legacy of supporting veterans and is home to the nationally recognized Institute for Veterans and Military Families, the first university-based institute in the U.S. focused on addressing the unique needs of veterans and their families.