Business & Economy
Two Syracuse Teams Advance to Hult Prize Regionals
Student startups Farm to Flame Energy and Drop Top are advancing to the regionals of the prestigious Hult Prize. Farm to Flame Energy will compete in Boston, and Drop Top will compete in Toronto. Fifteen regional finals are being held in early March to select teams for the final global round.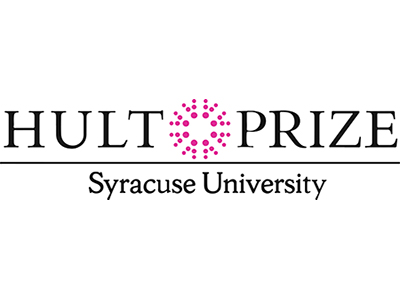 A winning team from each of the 15 regional finals will be selected to participate in an eight-week summer residency at the Hult Castle accelerator in the United Kingdom, and a chance to pitch at the United Nations in September 2018. The winning team will receive the $1,000,000 grand prize.
Farm to Flame Energy is founded by William Lee Mendes McKnight '18, a history major in the Maxwell School. His venture partners with entrepreneurially minded community members in developing countries to design and develop micro-grid solutions. The project leverages locally grown crops to harness the power of energy and build more sustainable rural economies. Farm to Flame Energy team members include Kwaku Jyamfi '18, a chemical engineering major in the College of Engineering and Computer Science, and Sayje Lasenberry '19, who is majoring in sustainable energy management at SUNY ESF.
The concept underlying Drop Top is to conserve water and enhance drip irrigation using REVLAR, a paper-thin, waterproof, durable and impervious material designed to withstand high/low temperature fluctuations. Drop Top's ingenious design increases agricultural output while conserving water. Team members include Jason Kuperberg '18, a biotechnology major in the College of Arts and Sciences; Serena DeSeta '18, a dual major in entrepreneurship and emerging enterprises and advertising and business communication in the Whitman School; and Matthew Goodman '19, a design major in the College of Visual and Performing Arts (VPA).
The Hult Prize, known as "The Nobel Prize for student startups," seeks out game-changing student social enterprises that compete to solve the world's toughest challenges. This year's theme, "Harnessing the Power of Energy," issued a challenge to conceive a scalable solution to transform the lives of 10 million people by 2025.  Energy-powered innovation was broadly defined to include six core areas:  connectivity; mobility; farming, food and agriculture; water collection, storage and transport; health and the human experience; and education.
Swedish billionaire entrepreneur and philanthropist Bertil Hult established the competition in 2009, and each year the Hult family donates $1,000,000 in seed capital to the winning social enterprise.
Syracuse teams advancing to the regionals were selected through a campus competition in December. Judges selected Farm to Flame Energy and Drop Top as their top picks, based on their ideas that combined energy, agriculture, education, conservation and sustainable enterprise.
Learn more at http://www.hultprize.org/.
About Syracuse University
Founded in 1870, Syracuse University is a private international research university dedicated to advancing knowledge and fostering student success through teaching excellence, rigorous scholarship and interdisciplinary research. Comprising 11 academic schools and colleges, the University has a long legacy of excellence in the liberal arts, sciences and professional disciplines that prepares students for the complex challenges and emerging opportunities of a rapidly changing world. Students enjoy the resources of a 270-acre main campus and extended campus venues in major national metropolitan hubs and across three continents. Syracuse's student body is among the most diverse for an institution of its kind across multiple dimensions, and students typically represent all 50 states and more than 100 countries. Syracuse also has a long legacy of supporting veterans and is home to the nationally recognized Institute for Veterans and Military Families, the first university-based institute in the U.S. focused on addressing the unique needs of veterans and their families.