Arts & Culture
Two Syracuse Alumni Garner Oscar Nominations for Screenwriting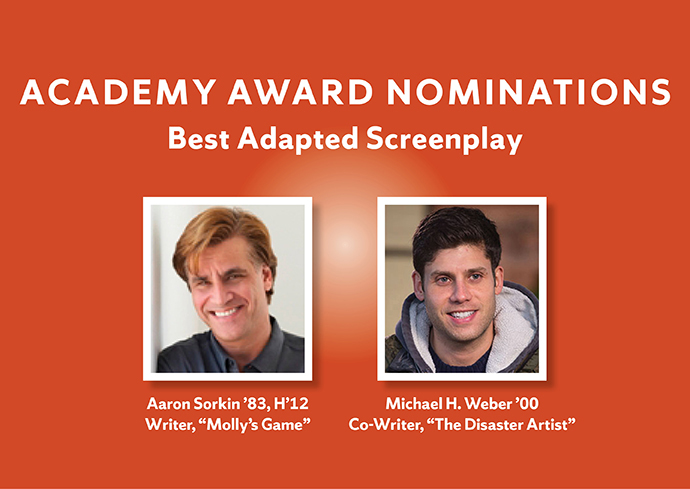 Two alumni of Syracuse University received nominations when the 90th Academy Awards were announced Tuesday, both in the category of Best Adapted Screenplay. Aaron Sorkin '83, H'12 received his third Oscar nomination for "Molly's Game," while Michael H. Weber '00 was recognized as co-writer of "The Disaster Artist."
This was the third Oscar nomination for Sorkin, a graduate of the College of Visual and Performing Arts' (VPA) Department of Drama and an award-winning screenwriter, producer and playwright. He adapted "Molly's Game" from Molly Bloom's memoir "Molly's Game: The True Story of the 26-Year-Old Woman Behind the Most Exclusive, High-Stakes Underground Poker Game in the World" (HarperCollins Publishers, 2014). The film also marked Sorkin's directorial debut.
Sorkin won the Academy Award in the Adapted Screenplay category in 2011 for "The Social Network." In 2012, he was nominated in the same category for "Moneyball," along with Steven Zaillian and Stan Chervin.
An active and dedicated Syracuse University alumnus, in 2006 Sorkin funded and launched the Sorkin in LA Learning Practicum—also known as "Sorkin Week"—which is a weeklong immersion experience for VPA drama and film students to meet with professionals working in all facets of the entertainment industry, including actors, writers, talent agents, directors and producers. He is a member of the VPA Council and has received Syracuse University's George Arents Pioneer Medal, the highest alumni honor awarded by the University, as well as an honorary degree when he delivered the University's 2012 Commencement address.
Weber, an alumnus of the Newhouse School's television, radio and film program, was nominated for the screenplay for "The Disaster Artist," the true story of aspiring filmmaker Tommy Wiseau, based on the book by Greg Sestero. Weber is a screenwriter and producer of various studio and independent films. With Neustadter, he adapted "The Fault in our Stars," based on the bestselling novel by John Green. In June 2014, it opened as the No. 1 movie in America and went on to gross more than $300 million worldwide.
Weber co-wrote "(500) Days of Summer," which was nominated for Best Feature—Comedy at the Golden Globe Awards and earned him an Independent Spirit Award and a Golden Satellite Award for Best Screenplay of the Year.
He also co-wrote and executive produced the critically acclaimed independent film "The Spectacular Now," an official selection of the 2013 Sundance Film Festival. The film was nominated for two Indie Spirit Awards, including Best Screenplay, and the National Board of Review named it a Top Ten Independent Film of 2013.
Weber has written for Fox, Warner Bros., Universal, Sony, Paramount and Disney.