Arts & Culture
Transmedia Colloquium Series Presents Light Work Artist-in-Residence Jess T. Dugan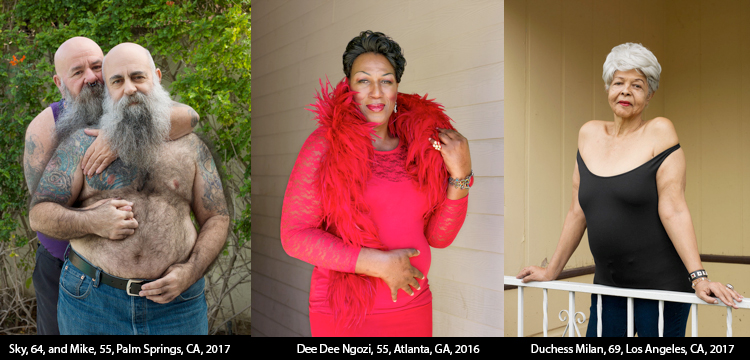 The College of Visual and Performing Arts' Department of Transmedia Colloquium Series will present a special artist talk and Q&A with current Light Work Artist-in-Residence Jess T. Dugan Tuesday, Jan. 23, at 2:15 p.m. in the Shemin Auditorium, Shaffer Art Building.
Dugan will discuss the trajectory of her work over the past decade, motivations for making photographs, and experience as a working artist. She will speak in detail about "Every Breath We Drew" and her recently completed project, "To Survive on This Shore: Photographs and Interviews with Transgender and Gender Nonconforming Older Adults," which she has been working on since 2013. The presentation will take place at the Shemin Auditorium. The talk and Q&A are free and open to students and community members.
St. Louis–based photographer Dugan is an artist whose work explores issues of gender, sexuality, identity and community. She has been photographing within LGBTQ communities for the past decade and is deeply committed to the transformative power of photographic portraiture.
"Although my investigation surrounding identity was born out of personal experience, my focus has continually expanded outward, centering around the process through which we each come to know our authentic selves and the difficulties that arise when we assert those selves within constraining environments," she says. "Formally, I use medium and large-format cameras, natural light and a slow working method to combine a traditional style of photographing with contemporary subject matter. My work does not attempt to provide definitive answers; rather, it invites viewers to engage with others in an intimate, meaningful way, requiring them to reflect on their own identities in the process."
Dugan holds an M.F.A. in photography from Columbia College Chicago, a master of liberal arts in museum studies from Harvard University, and a B.F.A. in photography from the Massachusetts College of Art and Design.
Dugan's work has been exhibited internationally at the Smithsonian National Portrait Gallery, the Aperture Foundation, the Museum of Contemporary Photography, the San Diego Museum of Art, the Cornell Fine Arts Museum at Rollins College, the Catherine Edelman Gallery, the Griffin Museum of Photography and at many colleges and universities nationwide. Dugan was the recipient of a Pollock-Krasner Foundation Grant and was selected by the White House as a 2015 Champion of Change. Dugan's first monograph, "Every Breath We Drew," was published in 2015 by Daylight Books and coincided with a solo exhibition at the Cornell Fine Arts Museum. Her second monograph, "To Survive on this Shore," will be published in 2018 by Kehrer Verlag and will coincide with a solo exhibition at projects+gallery in St. Louis.
Her photographs are in the permanent collections of the Museum of Fine Arts, Boston; the Museum of Fine Arts, Houston; the Harvard Art Museums; the Birmingham Museum of Art; the Grand Rapids Art Museum; the Cornell Fine Arts Museum at Rollins College; the DePaul Art Museum; Fidelity Investments; JP Morgan Chase; and the Kinsey Institute for Research in Sex, Gender and Reproduction. Her work is also included in the Midwest Photographer's Project at the Museum of Contemporary Photography in Chicago. Dugan is represented by the Catherine Edelman Gallery in Chicago.
About Syracuse University
Founded in 1870, Syracuse University is a private international research university dedicated to advancing knowledge and fostering student success through teaching excellence, rigorous scholarship and interdisciplinary research. Comprising 11 academic schools and colleges, the University has a long legacy of excellence in the liberal arts, sciences and professional disciplines that prepares students for the complex challenges and emerging opportunities of a rapidly changing world. Students enjoy the resources of a 270-acre main campus and extended campus venues in major national metropolitan hubs and across three continents. Syracuse's student body is among the most diverse for an institution of its kind across multiple dimensions, and students typically represent all 50 states and more than 100 countries. Syracuse also has a long legacy of supporting veterans and is home to the nationally recognized Institute for Veterans and Military Families, the first university-based institute in the U.S. focused on addressing the unique needs of veterans and their families.