Campus & Community
Open Basketball Offered at the Melo Center Tuesday and Thursday Nights
Starting this Thursday, Feb. 1, students will have an additional location to play pick-up basketball. Recreation Services and Athletics are partnering to offer open basketball hours at the Carmelo K. Anthony Basketball Center (Melo Center), attached to Manley Field House. This semester from 8-11 p.m. on Tuesdays and Thursdays, students can use the basketball courts in the Melo Center for pick-up basketball.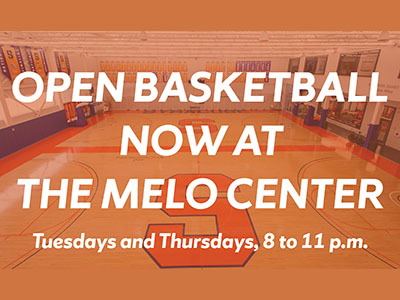 With the popularity of pick-up and intramural basketball on campus, Recreation Services and Athletics identified an opportunity to increase open court time through the use of the Melo Center. Currently, open basketball is also available at the Women's Building and Flanagan Gymnasium while the transformation of Archbold Gymnasium progresses.
"When the Recreation Services and Athletics teams came together to discuss options to help increase playing opportunities for students, it was clear that the Melo Center could be a great temporary location to host open basketball activities. We appreciate the great partnership and collaboration with Athletics to expand playing opportunities for students," says Matt Hackett, director of Recreation Services.
Please note, street shoes are not permitted on the courts. Players must carry basketball shoes inside to change before playing. SU ID required. No admittance after 10 p.m.
For more information, visit the Recreation Services website.