Campus & Community
New Director Named to Lead Renée Crown University Honors Program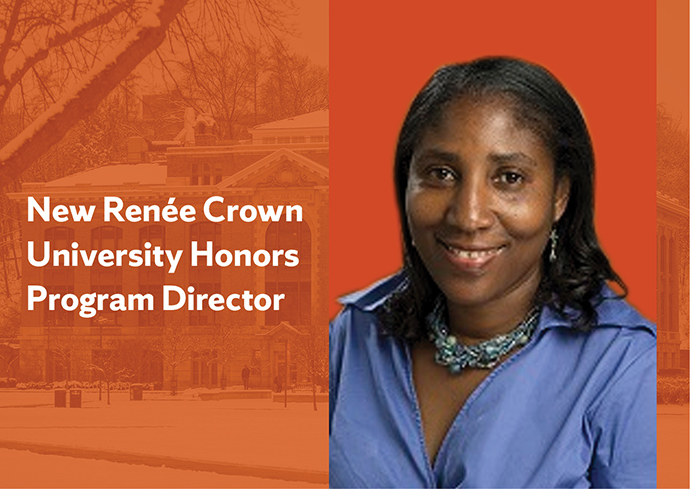 The College of Arts and Sciences has named Danielle Taana Smith director of the Renée Crown University Honors Program.
Smith, who was selected after a national search, comes to Syracuse from the Rochester Institute of Technology, where she is a professor of sociology and director of the school's honors program. Her initial term of appointment is five years, with a formal review at three years.
"Danielle will further distinguish the honors program as a key component of advancing the University's academic goals," says Dean Karin Ruhlandt of the College of Arts and Sciences, which houses and administers the Universitywide program. "She has an impressive record of success as a scholar, teacher and administrator, and she has an obvious passion for challenging and inspiring students to strive for intellectual excellence. She is going to be a tremendous asset to an already strong program, and I look forward to working with her to make it even stronger."
As director of the Honors Program, Smith will hold responsibility for all aspects of the program, including advancing its core values and mission, representing the program to internal and external constituencies, building positive and productive cross-campus relationships, chairing the program's core faculty, overseeing staff and budgets, and teaching in the program. She also will hold a faculty appointment as professor in the Department of African American Studies.
Smith, whose areas of expertise include gender studies, population studies and global health and development, among others, joined the RIT faculty in 2003, and she has directed the honors program since 2009. In that capacity, she led several initiatives to advance the program and expand its impact, including establishing a comprehensive academic curriculum for the honors program and organizing an Honors Curriculum Committee to ensure that the program was sufficiently rigorous. She also advanced measures to enhance diversity within the honors program, including leading collaborations with the Multicultural Center for Academic Success and McNair Scholars Program and initiating National Technical Institute for the Deaf representation in the program. In 2016, she organized the first Honors Program Undergraduate Research Symposium. From 2008-2009, Smith also served as coordinator for RIT's Urban and Community Studies Degree Program.
"In order for our students to succeed in today's competitive, globalizing world, institutions of higher learning must ensure that they acquire core competencies and mastery of their respective fields of study," Smith says. "They must also gain familiarity with broader areas of inquiry, particularly in the humanities and social sciences. After graduation and leaving the halls of their alma maters, they are then well-rounded, global citizens, who understand their responsibilities to push boundaries for the improvement of their communities, countries and the world at large. I believe that the Renée Crown University Honors Program is well-suited to lead in these endeavors. I look forward to the challenges ahead and to working with University partners and the larger Syracuse community."
Among other honors and awards, Smith in 2016 was named an ERASMUS+ Exchange Scholar, Faculty of Pedagogy and Social Work, at Liepaja University in Latvia. She is a member of numerous professional organizations, including the American Anthropological Association and the American Sociological Association.
Smith earned a Ph.D. in sociology from University of South Carolina; an MBA from Saint Martin's College, in Lacey, Washington; and a B.A. in Russian Studies from Dartmouth College, Hanover, N.H.
The Honors Program is named for Renée Schine Crown '50, H'84, a civic leader and philanthropist, member of the A&S Board of Visitors, and member emerita of the University's Board of Trustees.
About Syracuse University
Founded in 1870, Syracuse University is a private international research university dedicated to advancing knowledge and fostering student success through teaching excellence, rigorous scholarship and interdisciplinary research. Comprising 11 academic schools and colleges, the University has a long legacy of excellence in the liberal arts, sciences and professional disciplines that prepares students for the complex challenges and emerging opportunities of a rapidly changing world. Students enjoy the resources of a 270-acre main campus and extended campus venues in major national metropolitan hubs and across three continents. Syracuse's student body is among the most diverse for an institution of its kind across multiple dimensions, and students typically represent all 50 states and more than 100 countries. Syracuse also has a long legacy of supporting veterans and is home to the nationally recognized Institute for Veterans and Military Families, the first university-based institute in the U.S. focused on addressing the unique needs of veterans and their families.