Campus & Community
National Pan-­Hellenic Council, University Union Join Forces for 'Cuse for Good: Social Justice'
University Union and the National Pan-­Hellenic Council (NPHC) have partnerred for a day of social justice sponsored by the Student Association. The event aims to create an environment in which the Syracuse University campus and Syracuse community can come together for a day of conversation and celebration surrounding social justice.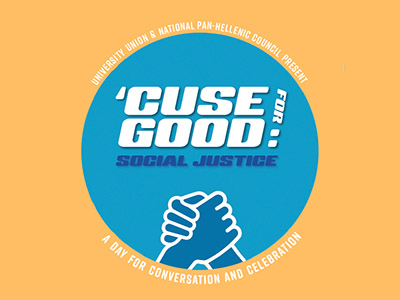 The three-­part event will occur on Saturday, Feb. 17, and includes a moderated social justice panel at noon in Goldstein Auditorium. Immediately following, there will be a free lunch in Panasci Lounge featuring foods from eight diverse cultures. At 8 p.m. there will be a celebratory concert held in Goldstein Auditorium.
As a precursor to "Cuse for Good: Social Justice," Orange After Dark, in collaboration with Student Association, Light on Ebony, NPHC, Mixtape, Renegades and Femme Noir will host a movie premiere of "Black Panther" on Thursday, Feb. 15, at Regal Cinemas at Destiny USA. Tickets will be $3, which will include the screening and transportation (including accessible buses) to and from the mall.
The lineups for the panel and concert, in addition to ticket prices, will be announced on Feb. 4. Tickets for the event will go on sale at the Schine Box Office the following day, Feb. 5 at 9 a.m. Tickets for "Cuse for Good" are open to students, faculty, staff and the public. All ticket proceeds from Orange After Dark's "Black Panther" premiere and "Cuse for Good's" panel and concert will be donated to three Syracuse City Schools: Van Duyn Elementary School, Grant Middle School and Fowler High School.
American Sign Language (ASL) interpretation and Communication Access Realtime Translation (CART) will be available at the moderated panel. If you require additional accommodations, please contact uuvicepresident@gmail.com.
For further questions or concerns, contact Keely Higgins, director of public relations for University Union, at uupublicrelations@gmail.com or David Gilstrap, NPHC Social Chair, at cusenphc@gmail.com.