Campus & Community
Mark Your Calendar for Orange Central, Oct. 18-21, and Family Weekend, Oct. 26-28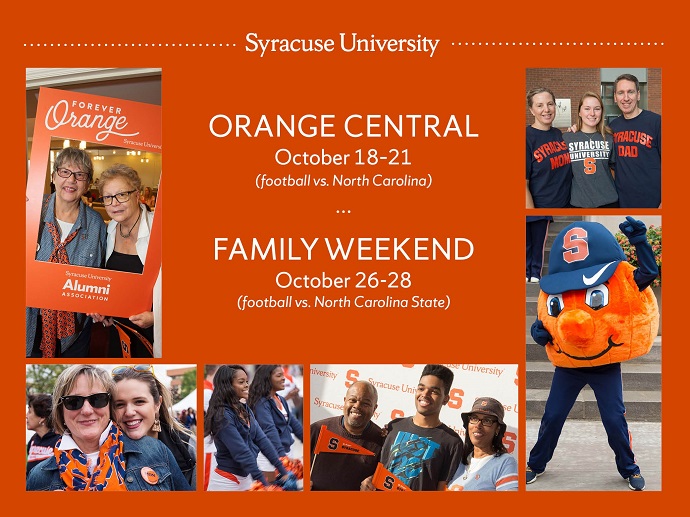 Join in the fun this fall when alumni and families are welcomed back to campus for two very special programs. Save the dates for Orange Central Weekend, Oct. 18-21, and Family Weekend, Oct. 26-28.
Orange Central is the once-a-year homecoming and reunion celebration for members of the Orange community everywhere. Syracuse University alumni, students, faculty, staff and friends come together to enjoy dozens of activities, from lectures and panel discussions to campus tours, performances, and social and athletic events.
Visitors can get their tickets to watch the men's football team go head-to-head with North Carolina on Saturday, Oct. 20, in the Carrier Dome. Tickets will be available for purchase through Orange Central registration, which opens later this year. Buy them when you register for Orange Central to secure your spot in our special Orange Central Cheer Section.
For alumni, Orange Central is a way to reminisce and reconnect, to explore SU's newest places and programs and to get to know today's campus community. For students, it's the perfect time to show their Orange pride and enjoy a week filled with SU traditions hosted by the Traditions Commission. Check out http://orangecentral.syr.edu regularly to view updates.
Also in October, family members are invited to campus to see a sampling of life at Syracuse University. Coordinated by the Parents Office, Family Weekend gives loved ones an opportunity to meet their student's dean and faculty members, attend campus lectures and events, eat together in the dining halls, explore campus buildings and visit community establishments.
Guests can also purchase tickets for the men's football game vs. North Carolina State on Saturday, Oct. 27. Family Weekend football tickets, individual tickets and student 2018-19 season passes will all go on sale in mid-March.
Visit http://parents.syr.edu/family-weekend to check out information about the events and activities as the information is updated regularly. For information on lodging and hotels visit the Syracuse Visitors Bureau website at https://www.visitsyracuse.com/.
About Syracuse University
Founded in 1870, Syracuse University is a private international research university dedicated to advancing knowledge and fostering student success through teaching excellence, rigorous scholarship and interdisciplinary research. Comprising 11 academic schools and colleges, the University has a long legacy of excellence in the liberal arts, sciences and professional disciplines that prepares students for the complex challenges and emerging opportunities of a rapidly changing world. Students enjoy the resources of a 270-acre main campus and extended campus venues in major national metropolitan hubs and across three continents. Syracuse's student body is among the most diverse for an institution of its kind across multiple dimensions, and students typically represent all 50 states and more than 100 countries. Syracuse also has a long legacy of supporting veterans and is home to the nationally recognized Institute for Veterans and Military Families, the first university-based institute in the U.S. focused on addressing the unique needs of veterans and their families.