Campus & Community
Mark and Pearle Clements Internship Awards Offered to Students Seeking Unique Internships
The Mark and Pearle Clements Internship Awards are intended to enable Syracuse University students to undertake unique internships that wouldn't be possible without financial help. Clements Interns will usually spend one summer away from the University, working under the guidance and supervision of an expert who can help them connect their academic learning to real world application.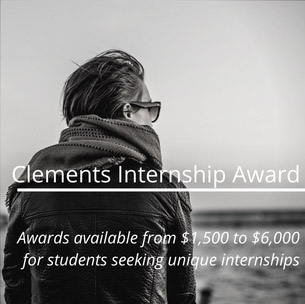 The Clements Awards typically range from $1,500 to $6,000. There are usually several awards available each year. The award may be used to pay for internship-related travel, living expenses and required materials, but may not, in most cases, be used to pay for salaries, stipends or tuition.
Past award recipients have held internships at organizations including the National Football League; World Food Program in Djibouti, Africa; Seattle Art Museum; and the Equality Institute in Melbourne, Australia.
Students can apply online on OrangeLink. The deadline to apply is Friday, Feb. 2. For more information, students are encouraged to check the frequently asked questions page, visit Career Services in 235 Schine or call 315.443.3616.