Campus & Community
Invest Syracuse Progress: Enhancing Mental Health Services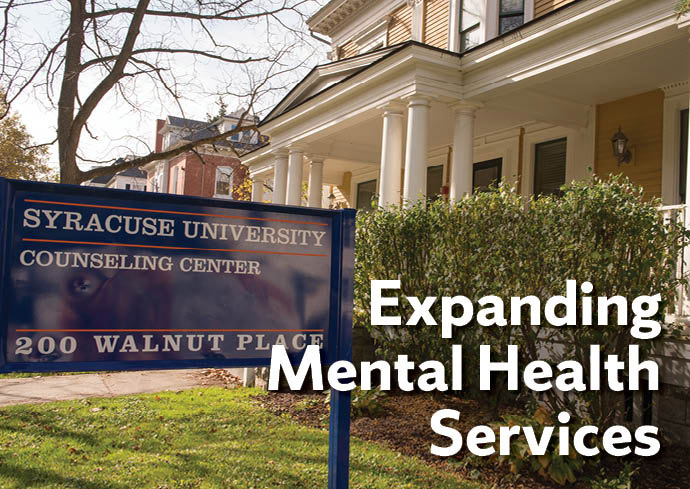 As part of Invest Syracuse, a $100 million initiative designed to advance academic excellence and the student experience, Syracuse University today announced steps it will take to enhance mental health counseling and services on campus.
Following significant discussion between University and Student Association leaders, the Counseling Center is piloting extended hours of operation for the spring 2018 semester. This semester, searches will also begin for four additional staff therapists and a psychiatrist. With the increase in staffing, there are also plans to create a Counseling Center satellite office at 111 Waverly Ave. The increase in staffing and extension of hours are part of broader efforts to strengthen and increase access to health and wellness services.
"Mental health is a critical component to addressing students' holistic health and wellness needs. By extending hours, increasing staffing and providing group therapy options at later hours, we can increase the reach and opportunities for students to access the care they need and better support their capacity to be successful inside and outside the classroom," says Dolan Evanovich, senior vice president for enrollment and the student experience.
"Mental health is integrated into every facet of students' lives—from academics, social lives, and more. It's often a crucial component and antecedent to a dynamic and successful education. Therefore, over the past few years, mental health has been a key priority for Student Association. We have worked with University leaders and campus partners to lead and discuss initiatives surrounding mental health, such as Mental Health Awareness Week. We are excited about these additional investments in mental health services and counseling because they not only increase access to essential resources, they also convey a powerful message that no student is alone, each student's mental health is valued, and every student deserves help if they need it," says Angie Pati '18, Student Association vice president.
On Mondays and Thursdays, the center will remain open until 7 p.m. to accommodate more scheduled appointments. Additionally, the Counseling Center will host two evening group therapy options on these days.
With extended hours, the Counseling Center increases its capacity for scheduled counseling appointments, as well as broadens its hours of operation in ways that may be more convenient for students. The extended hours, increased appointment slots, and additional staff therapists can also support efforts to reduce wait times.
Coupled with the recently released new group therapy schedule, the Counseling Center is looking forward to a robust spring 2018 schedule that offers more opportunities for students to seek mental health counseling.
As a start, the two group therapy options offered in the evening will be:
Supporting Students with Anxiety, a weekly group for students experiencing symptoms of anxiety and difficulty with stress management that will be offered Mondays, 5-6:30 p.m.
Building Resilience, a five-week skills and process group that provides students the opportunity to develop the strength and stamina to deal with life's challenges that will be offered Thursdays, 5-6:30 p.m
To join a group, students must first contact the Counseling Center at 315.443.4715. Students will complete an orientation session prior to starting group. For more information on the different group therapy options, visit the Counseling Center's Group Therapy webpage or contact Dr. Brown at clbrow01@syr.edu.
About Invest Syracuse
Invest Syracuse: Advancing Academic Excellence and the Student Experience aims to provide all students with a distinctive, world-class learning experience that prepares them for professional and personal success. The three-pronged initiative seeks to redefine the student experience, advance discovery and innovation, and expand opportunity for students of promise and talent from across the socioeconomic spectrum. To learn more about Invest Syracuse, visit http://investsyracuse.syr.edu.
About Syracuse University
Founded in 1870, Syracuse University is a private international research university dedicated to advancing knowledge and fostering student success through teaching excellence, rigorous scholarship and interdisciplinary research. Comprising 11 academic schools and colleges, the University has a long legacy of excellence in the liberal arts, sciences and professional disciplines that prepares students for the complex challenges and emerging opportunities of a rapidly changing world. Students enjoy the resources of a 270-acre main campus and extended campus venues in major national metropolitan hubs and across three continents. Syracuse's student body is among the most diverse for an institution of its kind across multiple dimensions, and students typically represent all 50 states and more than 100 countries. Syracuse also has a long legacy of supporting veterans and is home to the nationally recognized Institute for Veterans and Military Families, the first university-based institute in the U.S. focused on addressing the unique needs of veterans and their families. To learn more about Syracuse University, visit http://syracuse.edu.