Campus & Community
Black History Month Celebration Begins Thursday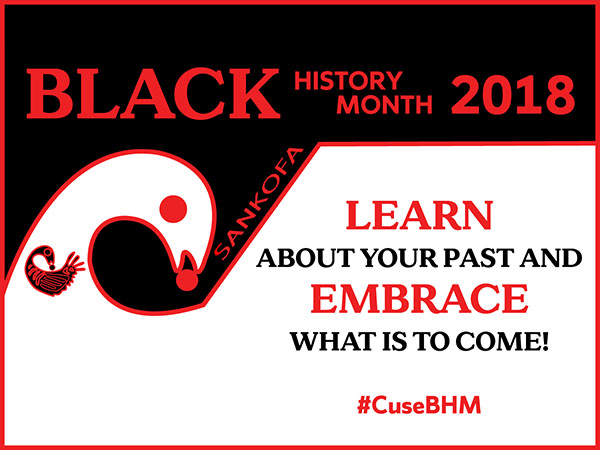 Syracuse University's annual Black History Month celebration begins Thursday, Feb. 1, with an opening reception event from noon-3 p.m. in the Schine Student Center Jabberwocky Café.
The month-long celebration includes performances, thought-provoking lectures and dialogues, art exhibitions, music and other events. Campuswide coordination is led by the Office of Multicultural Affairs within the Division of Enrollment and the Student Experience, in partnership with many student organizations and University partners.
"The events and programs during Black History Month offer campus community members an opportunity to explore, engage and celebrate the robust and diverse history and traditions of African Diaspora. The planning committee, comprised of students, faculty and staff, is excited for this year's calendar of events and looks forward to bringing the campus community together for this celebration," says Cedric T. Bolton, coordinator of student engagement in the Office of Multicultural Affairs and chair of the planning committee.
One of the most highly anticipated events of the month is the annual evening dinner and music celebration The Black Lounge. This year's event will feature headliners Danielle Ponder and the Tomorrow People, a soulful vocal band from Rochester.  The Black Lounge will also feature performances by Anomalous People and music by DJ Maestro. Tickets for The Black Lounge are free and available at the Schine Box Office. The Black Lounge is Saturday, Feb. 10, at 7 p.m. in Goldstein Auditorium, Schine Student Center.
This year's commemorative event features a poetic expression by Philadelphia-based poets Perry "Vision" DiVirgillio and Kavindu "Kavi" Jointe. DiVirgillio and Jointe use performance poetry, generative writing workshops and critical dialogue to cultivate a conversation that encompasses all forms of masculinity, the performance of gender and the inherent toxicity of gendered binaries in a patriarchal world. With poems focusing on gender, sexuality, multicultural identity, race, violence, street harassment, sexual assault, education, homophobia/transphobia and more, their art aims to task men and masculine-of-center folks of all journeys to unpack, heal and create a path to whole masculinities. The poetic lecture is on Wednesday, Feb. 21, in HBC Gifford Auditorium at 7 p.m. The event is free and open to the public.
Some additional events throughout the month include:
"Owning My Masters: The Rhetoric of Rhymes & Revolutions": Monday, Feb. 5, 5 p.m., Peter Graham Scholarly Commons, Bird Library
Martin Luther King Jr. Community Celebration: Saturday, Feb. 10, 11 a.m. to 2 p.m., Dr. King Elementary School
"Reclaiming our Education: Black Girls Lit 4 Literacy": Saturday, Feb. 10, 2-4 p.m., Beauchamp Branch Library
Tangerine Film Screening and moderated discussion: Thursday, Feb. 22, 6:30 to 9:30 p.m., 001 Life Sciences Complex
Wellness/Yoga Workshop presented by Marcelle Haddix: Wednesday, Feb. 28, 6-8 p.m., 228B Schine Student Center
For more information, including a complete list of events and programs, visit the Office of Multicultural Affairs website or contact Bolton at 315.443.9676.
About Syracuse University
Founded in 1870, Syracuse University is a private international research university dedicated to advancing knowledge and fostering student success through teaching excellence, rigorous scholarship and interdisciplinary research. Comprising 11 academic schools and colleges, the University has a long legacy of excellence in the liberal arts, sciences and professional disciplines that prepares students for the complex challenges and emerging opportunities of a rapidly changing world. Students enjoy the resources of a 270-acre main campus and extended campus venues in major national metropolitan hubs and across three continents. Syracuse's student body is among the most diverse for an institution of its kind across multiple dimensions, and students typically represent all 50 states and more than 100 countries. Syracuse also has a long legacy of supporting veterans and is home to the nationally recognized Institute for Veterans and Military Families, the first university-based institute in the U.S. focused on addressing the unique needs of veterans and their families.