Campus & Community
2019 Senior Class Marshal Applications Due Jan. 26
Each year, the University designates two rising seniors to lead their class as the all-University student representatives for Commencement. Class of 2019 Senior Class Marshal applicants must be current undergraduate students graduating in May 2019. The deadline to apply is Friday, Jan. 26, by 5 p.m.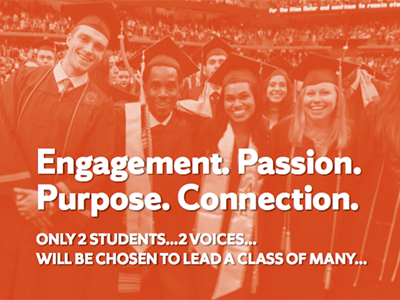 Senior Class Marshals play a significant role as student leaders throughout their senior year. In addition to leading the Commencement procession, these students meet with senior-level administrators to share and offer feedback on their student experience, participate in networking events, serve as representatives at Universitywide events and recommend speakers for their Commencement ceremony.
"To me, Class Marshal means cherishing the unique adventures you've had throughout your time at Syracuse University and beyond. It means that these unique adventures are not only crucial to forming each individual student, but that these adventures also mold this institution in an intricate and impactful way. Class Marshal is a remarkable honor that marks your student experience as a powerful representation of who a Syracuse University student is—an unparalleled honor," says Angie Pati, a senior in the College of Arts and Sciences and Class of 2018 Senior Class Marshal.
Applicants must submit a completed online application form, an essay and an official SU transcript. Two recommendation letters are also required. Staff and faculty are also invited to nominate May 2019 graduates for this honor using the Senior Class Marshal online nomination form.
"Senior Class Marshals exemplify the spirit of their class, demonstrate academic excellence and are engaged and involved students on and off campus," says Colleen O'Connor Bench, associate vice president in the Division of Enrollment and the Student Experience. "We encourage our May 2019 graduates to consider applying for this honor, and invite campus community members to nominate students who represent these qualities."
2018 Senior Class Marshal Gerald Brown, a senior in the College of Visual and Performing Arts, shares this advice for any Class of 2019 student applying: "Trust yourself and always remember what you love about this University, as well as how you think you can make this place better."
For more information, visit the Senior Class Marshal website. Questions can be directed to 315.443.9153 or ahumphre@syr.edu.
About Syracuse University
Founded in 1870, Syracuse University is a private international research university dedicated to advancing knowledge and fostering student success through teaching excellence, rigorous scholarship and interdisciplinary research. Comprising 11 academic schools and colleges, the University has a long legacy of excellence in the liberal arts, sciences and professional disciplines that prepares students for the complex challenges and emerging opportunities of a rapidly changing world. Students enjoy the resources of a 270-acre main campus and extended campus venues in major national metropolitan hubs and across three continents. Syracuse's student body is among the most diverse for an institution of its kind across multiple dimensions, and students typically represent all 50 states and more than 100 countries. Syracuse also has a long legacy of supporting veterans and is home to the nationally recognized Institute for Veterans and Military Families, the first university-based institute in the U.S. focused on addressing the unique needs of veterans and their families.