Campus & Community
Student Staff Members of Baked Magazine Share Their Holiday Traditions
'Tis the season for classic home cooking, much-loved holiday traditions and maybe some festive new delights to try.
Editorial staff members of the student food magazine Baked share their seasonal go-to favorites, annual customs and helpful tips for getting together with family and friends.
A student-run magazine that comes out once a semester with a companion website, Baked draws in readers with tempting photos and recipes, stories of local eateries and food-related topics and trends. The Fall 2017 edition can be found throughout the Newhouse School complex and online within the next couple of days at bakedmagazine.com.
Tess Berger '18, Editor-in-Chief
College/Major: Newhouse School of Public Communications, Magazine Journalism
Ever since I was little, I remember my Decembers being filled with family, hot chocolate and dozens upon dozens of homemade cookies. From classic chocolate chip to melt-in-your-mouth Russian tea cakes, every holiday season, my mom and I turn our kitchen into a full-fledged bakery.
My all-time favorite batch to whip up is pizzelles, a traditional Italian waffle cookie made with just flour, eggs, sugar, butter or vegetable oil, and some flavoring—you could add lemon zest, but my mom and I always add anise extract. You do have to use a pizzelle press, but you'll realize it's worth it from the first bite.
Michael Yacubov '20, Fact Checker
College/Major: College of Engineering and Computer Science, Civil Engineering
My favorite holiday recipe is a creamy Russian beet salad. The recipe is my grandma's and is my favorite because not only is it tasty, but it also highlights one of the season's best root vegetables: beets.
It is a recipe my grandma brought over from Azerbaijan, where she immigrated from with my parents in the early 1990s, and has been a staple in my home my entire life.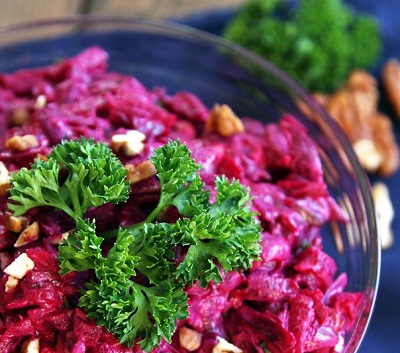 The salad involves mixing shredded roasted beets with mayonnaise, crushed roasted walnuts and grated fresh garlic. It's a great dish to make ahead of time and is best eaten cold.
This salad is a great way to mix up side dishes for the holiday season!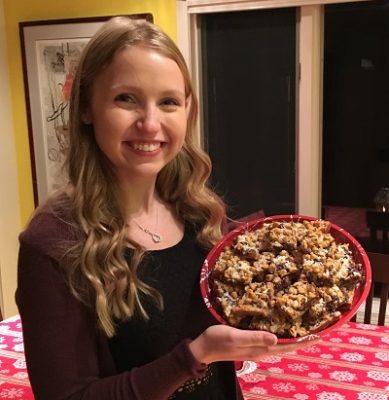 Megan Falk '19, Senior Editor
College/Major: Newhouse School, Magazine Journalism
During the holidays, there is nothing better than satisfying your sweet tooth with an after-dinner seven-layer bar. My mom learned the recipe from her childhood best friend's mom, and she's been making the dessert at every family gathering since.
The bar has a graham cracker crumb base and is topped with chocolate chips, butterscotch chips and coconut (you can add walnuts too). The bars are best eaten while still warm from the oven, when the chocolate and butterscotch are gooey and the graham cracker base has just a slight crunch.
It's the perfect dessert to add some freshness to the table filled with traditional pumpkin and apple pies, and you'll definitely be reaching for seconds!
Isabel Zuluaga Mesa, First-year Graduate Student, Illustrator
College/Major: College of Visual and Performing Arts, Illustration
My tip is to quit counting the calories of everything you eat and focus on enjoying the flavors. Holidays are made for treating yourself to delicious food and the company of those who you love the most, so don't stress it!
Chloe Citron '20, Digital Editor
College/Major: Newhouse School, Public Relations
My favorite holiday recipe is the "Mac & Cheese" from The Smith in NYC. My mom has been using their mac and cheese recipe for as long as I can remember.
The dish is filled with four different ch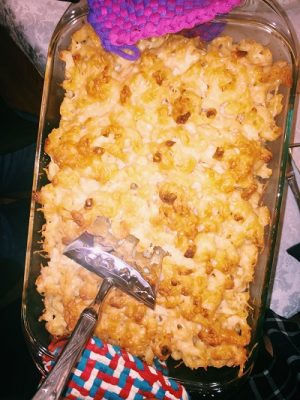 eeses: cheddar, Fontina, Gruyère and Parmigiano Reggiano, and is one of the best things I have ever eaten.
The top gets bubbly and brown and the inside is gooey and delicious. My entire family is always fighting for the last bite!