Health & Society
Q&A: Ph.D. Candidate Tamara Issak on Islamophobic Rhetoric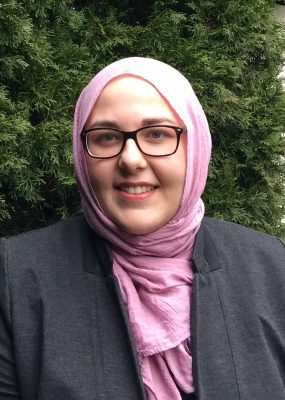 Tamara Issak is a graduate student pursuing her doctorate in Composition and Cultural Rhetoric in the Department of Writing Studies, Rhetoric and Composition in the College of Arts and Sciences. It's the next step in the New Jersey native's academic and professional pursuits, which have included a bachelor's degree in English and secondary education from William Paterson University and a master's degree in English literature from Rutgers University-Newark, as well as teaching, co-producing a podcast and producing/hosting daily and weekly radio shows.
This past spring, Issak was awarded a prestigious American Fellowship by the American Association of University Women (AAUW) to help with preparations for her dissertation, "Rhetorical (Re)constructions: Ground Zero, Park51, and Muslim identity," which she will defend this coming April.
01

What inspired you to select this topic for your dissertation?

I was in high school when the Sept. 11 attacks happened. I observed how the classroom became a hostile space for me as a Muslim woman after 9/11. It made me think about what kind of classroom I would want to be in and what kind of classroom I would lead if I were the teacher. This led me to studying English and secondary education in college and teaching as an adjunct professor for several years. I felt that I needed more knowledge and training to improve as a teacher, so I started the doctoral program at Syracuse University in composition and cultural rhetoric. My questions about belonging and identity, inclusion and exclusion never went away, and my dissertation focuses on these issues in order to understand how Muslim identity is constructed as Other in the United States. I apply theories of visual rhetoric and constitutive rhetoric to understand how spaces and places define and construct national identity.

02

What methodology have you followed for your research?

My research methods include site visits, interviews and rhetorical analysis. I visited the 9/11 Museum and Memorial. After receiving IRB (Institutional Review Board) approval, I conducted interviews with Muslim women. I also use theories of constitutive rhetoric, geographic rhetoric and visual rhetoric to rhetorically analyze arguments in support and opposition to Park51 in the "Ground Zero Mosque" controversy. 

03

In 2008-09, you traveled to Damascus via a Fulbright Research Fellowship. Were there any aspects of that trip that particularly struck you, that influenced your later pursuits?

In Syria, I conducted an oral history project interviewing Syrian refugees from the Golan Heights who were forcibly expelled from their homes during the 1967 War. As a young college graduate, I thought that being from the community I was researching would make it easier to conduct research. It was actually very challenging to gain people's trust and to find individuals who would feel comfortable talking about what they experienced. The year abroad forced me to consider the ethics of transnational research and my positionality as an American in Syria, and it also helped me to determine the types of research projects I would want to pursue.

04

Without giving away too much before your dissertation defense, from your research are there things you have found that have surprised you?

I am inspired by the creative work Muslim women are doing. The individuals I interviewed have persevered and acted courageously in the face of bigotry, racism and violent attacks. They challenge stereotypes and subvert expectations both within the broader American public sphere and within their respective Muslim communities. 

05

What's your big takeaway? What is it that people should come to know from your research?

Islamophobic rhetoric frames national conversations and informs arguments made across the political spectrum. Too often, Muslims and Islam are discussed as a monolithic foreign entity. Muslims come from every nation in the world, speak different languages, have different cultures, practice Islam differently, and yet they are often grouped together. In order to challenge and redefine the physical and figurative place of Muslims in the United States, we need to recognize this diversity and understand how Islamophobic rhetoric is operating. 

06

How has the AAUW fellowship helped you in completing your dissertation preparations?

Receiving the American Association of University Women fellowship is a great honor, and it has allowed me to focus on my research and dissertation writing in this last year of graduate school. Because of the fellowship, I have the flexibility to travel frequently for my research. Most significantly, though, I feel encouraged that a national women's organization recognizes my work and supports it. In the future, I plan to remain connected with the international network of AAUW scholars.