Health & Society
Blackboard Ally Available to Help Faculty Make Digital Course Content More Accessible
University faculty members have a new tool for providing students with accessible course documents. Blackboard Ally, an accessibility plugin, will be integrated into all Syracuse University courses in Blackboard starting in the 2018 spring semester. Faculty can request that Ally be turned on in their courses now instead of waiting for the start of the semester.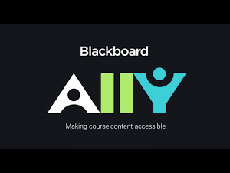 Blackboard Ally is a course content accessibility plugin that allows instructors to understand and tackle accessibility in a way that benefits all students. Ally automatically runs all of a course's documents through an accessibility checklist, searching for common accessibility issues. Using advanced machine learning algorithms, Ally also generates a wide range of alternatives to the instructor's original document file, such as accessible PDF, Semantic HTML, audio, ePub and electronic Braille.
Sharon Trerise, IT Accessibility Analyst in Information Technology Services (ITS), says the University licensed Blackboard Ally in the summer and has piloted its implementation in a few courses since September. At first, it was introduced in the School of Education. Since then, a variety of professors across the university have expressed interest, including professors in the School of Information Studies. "We wanted to find a solution to make it easier for faculty to provide accessible course content to students and help them learn how to create accessible documents from the beginning," Trerise says.
An important highlight of Blackboard Ally is that it is very simple to grasp. "This Blackboard tool was very easy to use. It easily created accessible options for documents I'm using," says Assistant Professor of Music Education David H. Knapp. "The accessible options such as cleaner PDFs for optical character recognition (OCR) are useful to all students." Once Ally has been turned on in a Blackboard course, there aren't any additional steps for the instructors to implement the plugin.
Instructors will notice a change in the Blackboard they are accustomed to, once Ally is integrated into a course. "Faculty will see next to each document a visible indicator that looks like a speedometer or gauge," Trerise says. The color of the indicator rates each document's accessibility. A red indicator means it is not very accessible in its native format; yellow means it's somewhat accessible, and green means the posted document meets most or all of the accessibility criteria. An instructor can then follow the steps outlined by Ally to enhance the accessibility of documents that have poor accessibility ratings.
Stephen Kuusisto, a University Professor in Cultural Foundations of Education in the School of Education, says, "As a blind faculty member, this is a good step forward for Blackboard. It puts the tools at the disposal of faculty who aren't necessarily up to speed on accessible documents and course materials."
Associate Professor Alan Foley, director of the Center on Human Policy, agrees. "I am glad to see that Bb has (finally) taken this step to improve the accessibility and universal design of its learning environment and the materials instructors put in Blackboard. I follow the principles of universal design for learning when I design and teach a class, and Ally gives me even greater capacity to do this."
Not only are professors having a positive experience with Blackboard Ally, but students are also benefiting. Foley says, "My students were most excited about the 'accessible versions' feature, which offered them on-demand access to course readings I had posted as PDFs in alternative formats, including a downloadable audio version and an ePub version. This feature gave ALL my students access to course content in different formats and was widely used." Foley notes that "students who need alt versions will have them at the same time as students who don't need an alt version."
Syracuse University student Emmanuel Elia Mhewa concurs. "The introduction of Blackboard Ally has brought simple life for me." Although he's using Blackboard Ally in just one course, Mhewa said he can download materials in any format he wants. "I like materials in HTML format if I'm using my PC," he says. "But MP3 is the best when I'm walking. Blackboard Ally allows me to choose my format."
Trerise notes that ITS hasn't seen any major drawbacks with the program yet, although it's obviously in its early stages. For example, Kuusisto notes that he is "still a bit unimpressed by the PDF converter, which isn't quite fully reliable. But this is a step."
In any case, Ally has helped students and instructors, providing for a more accessible and effective learning experience. "If professors take it seriously and modify their documents to make them accessible to their students, then it's a win-win solution," Trerise says.
For more information about Blackboard Ally visit Answers.syr.edu and search for Blackboard Ally. Faculty members who wish to have Ally turned on in their current Blackboard courses are invited to email their request to help@syr.edu.