Campus & Community
Wanted: 44+ Items for United Way Gift Basket Online Auction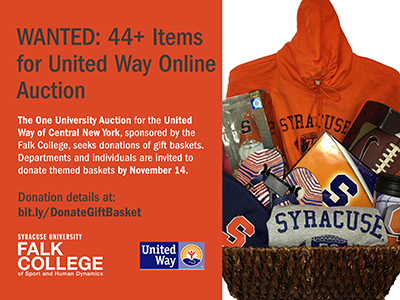 The One University Auction for the United Way of Central New York, sponsored by Falk College, is currently soliciting donations of gift baskets. Departments and individuals are invited to donate themed baskets of any kind. Holiday, kitchen gadgets, night on the town, gardening, pets, kids, crafts, coffee, date night, spa, movies, tailgate, SU, cleaning supplies, college students, SU themed, game night and others are all most appreciated. The possibilities are endless, and your creativity is welcomed as together we work to support the United Way of Central New York.
Through Nov. 28:
Please go online here to register your donation. You will be asked to include a photo of your gift basket, a title, a brief description (25 words or less) and the value of your basket. Individual donations or donations by departments are welcomed.
Please deliver your basket by Nov. 28 to 301 MacNaughton Hall, Falk Complex.
Dec. 4-6:
Online bidding will begin here on Monday, Dec. 4, and will run through midnight Wednesday, Dec. 6. Winning bidders will be notified via email on Dec. 7. Cash and checks (made payable to United Way of Central New York) will be accepted and baskets can be picked up in 301 MacNaughton Hall from 8:30 a.m. to 4 p.m. on Dec. 7-8 and Dec. 11-13.
For more information, contact: Beth Bagozzi Ciciarelli, bdbagozz@syr.edu, 315.443.9329.