Health & Society
Trans Day of Remembrance Featuring Jennicet Gutiérrez on Nov. 8
The LGBT Resource Center, within the Division of Enrollment and the Student Experience, presents Transgender Day of Remembrance. Transgender Day of Remembrance is nationally observed on Nov. 20 and honors those who have lost their lives to transphobic violence. To ensure students can participate in commemorating Transgender Day of Remembrance, the LGBT Resource Center will be honoring this day on Wednesday, Nov. 8, and feature an address by trans activist Jennicet Gutiérrez. The address will be from 7-9 p.m. in Maxwell Auditorium.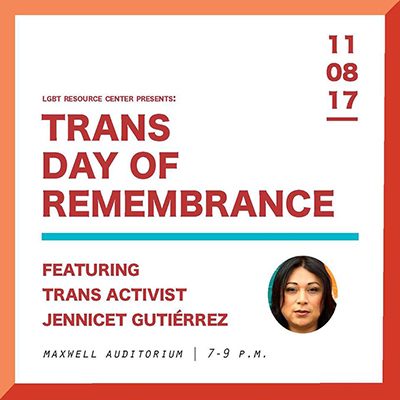 "I am beyond excited for Jennicet Gutiérrez to be the inaugural speaker in honor of Transgender Day of Remembrance; she is powerful, inspiring and courageous," says Britany BCash Cashatt, associate director in the LGBT Resource Center. "Transgender people, specifically transgender women of color, are disproportionately murdered and exploited not only in the U.S. but globally.  This is a day to honor those we have lost and to come together to fight unapologetically for the living!"
Gutiérrez is a transgender, Latina woman from México. She currently lives in Los Angeles, where she works as a community organizer for Familia: Trans Queer Liberation Movement. Gutiérrez believes in the importance of uplifting and centering the voices of trans women of color in all liberation work. Gutiérrez continues to organize to end the deportation, incarceration and criminalization of immigrants and all people of color.
This event is open to the campus community. American Sign Language (ASL) interpretation will be provided at the event. For more information, email lgbt@syr.edu.