Campus & Community
Syracuse Continues Giving Tuesday Tradition with GivingCUSEday
Giving Tuesday—the Tuesday following Thanksgiving—is a global day of giving, a day when the world comes together to support causes we truly value. Because Syracuse University holds such a special place in the hearts of so many people, SU has once again turned #GivingTuesday into #GivingCUSEday.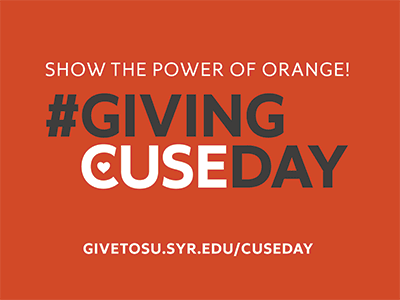 The concept is simple. Everyone who loves Syracuse University, from alumni, parents, and friends of SU to faculty, staff and students, is encouraged to consider the impact SU has had on their lives and make a gift, and then to share their reasons for giving on social media using #GivingCUSEday.
Philanthropy at Syracuse is a critical component of efforts to keep an SU education accessible and affordable. Giving by generous donors not only supports the nearly $270 million in scholarships and grants SU provides to students in need; it enhances the student experience through the recruitment and retention of faculty, improvements to academic buildings and residence halls, and much more.
"#GivingCUSEday is a great way for the Syracuse University community to come together and support our current students. These gifts mean a lot and make a big difference on campus," says Jeff Neal, Syracuse University's executive director for direct response programs.
"The first #GivingCUSEday helped educate people about what giving back to Syracuse means, and how it affects our students. It doesn't matter how much you're able to give, every gift matters. That's the message we're trying to convey: giving back to your alma mater changes lives."
Members of the Class of 2018 can also participate by making a gift of $20.18 to the Class Act student giving campaign, which kicked off as part of Boost the 'Cuse on Oct. 17.
Since its inaugural year in 2012, Giving Tuesday has become a movement that celebrates and supports giving and philanthropy. Last year, more than 1,640,000 people in 98 countries raised $177 million dollars online.
So join #GivingCUSEday and support Syracuse University. Make your gift to the Annual Fund to support the areas of greatest need at SU, or follow your heart and give to the part of SU you love most. Either way, remember to make your gift today!