Campus & Community
Reminder: Work Continues to Enhance Visibility and Safety around Women's Building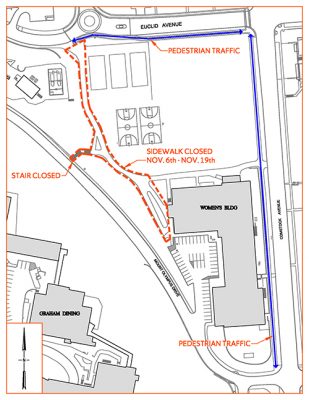 The Office of Campus Planning, Design and Construction and Physical Plant continue its work around the Women's Building to enhance visibility and safety. The work, which seeks to improve lighting in the area, will continue through Sunday, Nov. 19.
The lighting improvement work is occurring from the Sims Drive/Euclid Avenue intersection to the Women's Building North parking lot. During this time, a section of sidewalk is fenced off and closed to pedestrians. Pedestrians should use the sidewalk along Comstock and Euclid Avenues when traveling in this area. Additionally, signage is displayed on the fencing directing pedestrians.
To learn more about the work being done around the Women's Building, please visit http://facilities.syr.edu/closures/.
Community members with construction-related questions, comments or suggestions are encouraged to email cpdc@syr.edu.
And questions pertaining to accessibility should be directed to Aaron Hodukavich, director and ADA coordinator in the Office of Equal Opportunity, Inclusion and Resolution Services, at 315.443.2377 or ajhoduka@syr.edu.