Health & Society
Registration Open for Mindfulness Webinar for Faculty and Staff
It's a busy world. Do you find yourself multitasking in nearly everything you do? You fold the laundry while on the phone and keeping an eye on the kids, or plan your day in your head while listening to the radio and commuting to work. In the rush to accomplish necessary tasks, you may find yourself losing your connection with the present moment.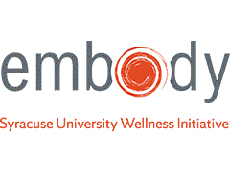 Mindfulness is a way of being fully conscious and completely present in the moment—setting aside your worries, expectations, emotions and other thoughts that take your mind away from the current moment. This webinar will introduce you to the art, science and practice of mindfulness. Learn ways to integrate mindfulness practices into your own life and reap the many physical and emotional benefits of daily mindfulness.
Cultivating Mindfulness, live webinar presented by Carebridge
Tuesday, Nov. 14
Noon-1 p.m.
If you are not able to join the live webinar, visit http://wellness.syr.edu/carebridgewebinars after Nov. 14 to view the archived webinar.
The Faculty and Staff Assistance Program provided by Carebridge is available 24/7/365 and can help you adjust to life's challenges.   Whether you need assistance identifying care for a child or an elder;  need help with your finances;  or desire assistance in coping with an emotion issue such as grief, stress or relationship conflicts, Carebridge can help. To access confidential services at any time, call Carebridge at 1.800.437.0911.
To learn more about Carebridge eligibility and services, visit http://wellness.syr.edu/carebridge
Questions? Email wellness@syr.edu or call 315.443.5472
Add your name to our email list to stay up to date on the latest wellness events.
Brought to you by the Syracuse University Wellness Initiative