Veterans
Profiles from the Past and Present—Celebrating Alumni and Student Veteran Stories
In celebration of Veterans Week 2017 at Syracuse University, the Office of Veterans and Military Affairs is recognizing the success stories of one current student veteran and one military-connected alumni each day of the week.  After welcoming veterans to campus as far back as World War I, and having the longest consecutive running ROTC program in the country, we have further defined our historic commitment to serving those who serve. The stories highlighted this week are just some of the many contributions making Syracuse University the best place for veterans.
Go here to see all of this week's profiles.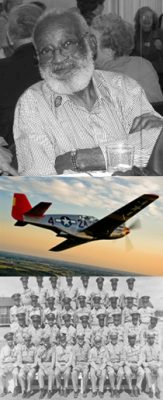 Albert Lee Gaines was born in Struthers, Ohio on Nov. 27, 1923. Gaines spent the majority of his adolescence in Seneca, New York, where he attended the Seneca Vocational School. Following high school, Gaines went on to Lincoln University in Jefferson City, Missouri; however, in the thick of World War II, he transferred to the Tuskegee Institute in Alabama.
With much reluctance and through great adversity, Gaines became a member of the now world-renowned Tuskegee Airmen in his early 20s. Prior to the Tuskegee Airmen, there were no black U.S. military aviators. When Congress forced the U.S. Army Air Corps to form an all-Black combat unit in 1941, Gaines was able to complete the course. He graduated from Tuskegee University as a second lieutenant and progressed to the rank of captain as a pilot, bombardier and eventually flight instructor.
During the height of WWII, Gaines was one of the few Tuskegee Airmen to join the ranks of a unit known as The Red Tails. This elite group developed a feared reputation among German pilots, having been credited for shooting down 106 enemy aircraft and never losing a plane under escort. It was only later in 1952 that Gaines and several other Tuskegee Airmen were acknowledged for their success by the T.J. Watson family, Eleanor Roosevelt and the founders of IBM, with whom he would eventually find employment. Notably, when he took the IBM opening exam, he achieved the highest test scores on record.
With support from important figures, Gaines was accepted into and attended Syracuse University—Gaines would call this his "Jackie Robinson moment." Gaines retired from IBM in 1999. He continued to be a legal activist at the Montrose VA Hospital and even ran once for county executive. Gaines fully retired in 2003.